Grant Shapps praises help for rough sleepers over Christmas
Housing Minister Grant Shapps praises the army of volunteers who are opening the doors to people sleeping rough over the festive period.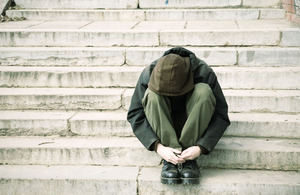 Across the country, thousands of volunteers are working alongside charity and council workers to provide short-term emergency shelters for vulnerable people during the cold weather.
Mr Shapps, who himself slept rough on Christmas Eve 2007 to help highlight the plight of homeless people, paid tribute to the fantastic job charities such as Shelter and Crisis are doing at helping people keep out the cold, and the willingness of volunteers to give up their time in order to make sure needy people have somewhere warm to stay and a hot meal at Christmas.
Housing Minister Grant Shapps said:
"Christmas is a time when most people will be gathering together with families and friends in the warmth of their homes - but for the hundreds of people across the country who are sleeping rough in the cold, this is a time when the hardship of their situation becomes even worse.
"That's why we are 100% behind the charities running these shelters to keep people off the streets, and we are backing up our support with cash. There's no reason why anyone should spend Christmas outdoors in the cold, so I urge anyone who is worried about a homeless person they've seen sleeping outside to contact their local council or your local homelessness charity.
"But homelessness is not just an issue at Christmas - it's a year round problem and the charities, councils and volunteers providing services for homeless people need our support. That's why we've made a long-term commitment to work closely with colleagues across government and the charitable sector through the Ministerial Working Group on homelessness, and protected £400 million of grant funding that will be used to tackle homelessness over the next 4 years."
Anyone with concerns about homeless people seen sleeping outside in the cold weather should contact their local authority or your local homelessness charity.
Information on homelessness services and volunteering is available on the Crisis and Shelter websites. In London, Thames Reach London Street Rescue helps rough sleepers off the streets and into accommodation. You can call 0870 383 3333 or use the online referral form.
Published 23 December 2010