Grant Shapps outlines local approach to delivering zero carbon homes from 2016
Councils and developers could be given much more flexibility to meet ambitious eco-standards to ensure all new homes are zero carbon from 2016.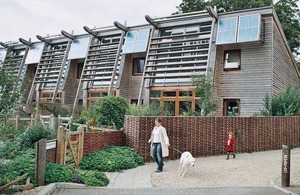 It comes as part of the coalition government's ambition for an eco-friendly economy and to become the greenest government ever.
The minister has said he will look at ways builders could make payments to fund community energy projects, such as wind farms and district heating schemes, to meet their obligations to reduce carbon emissions from new homes - this could give developers and councils more freedom and flexibility to decide how to meet their zero-carbon obligations.
Minimum standards for energy efficiency measures such as cavity wall insulation will also be set through future revisions to building regulations. These will be based on those revisions outlined in a recent consultation on the Code for Sustainable Homes, which set key benchmarks for the sustainability of new homes.
Mr Shapps also confirmed the allocation of £600,000 to the Zero Carbon Hub to continue its work this year. The Hub has also been tasked with testing new benchmarks for carbon emission reductions.
Grant Shapps said:
"This is about meeting tough environmental standards, but not dictating how every home should be built. Councils and developers together are in the best position to decide how best to meet these standards, so we are looking at giving them the flexibility and a range of options to do this.
"We are committed to all new homes being zero-carbon from 2016, and have the right mix of measures in place.
"First and foremost a zero carbon home must use as little energy as possible, which is why I will shortly announce a minimum standard for key energy efficiency measures like loft and cavity wall insulation.
"And to ensure the benchmark for carbon emission reductions is both ambitious and achievable, I look forward to seeing the results of tests the Zero Carbon Hub will conduct over the next few months."
The full Written Ministerial Statement 'Zero Carbon-Homes' is available from Hansard
Published 27 July 2010