Grant Shapps issues message to struggling households: seek early support
Housing Minister Grant Shapps has today sent a clear message that any household threatened with homelessness must seek help and advice as early…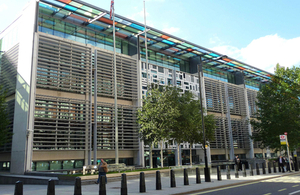 Housing Minister Grant Shapps has today sent a clear message that any household threatened with homelessness must seek help and advice as early as possible.
He said that a wide range of support remains available to those struggling to stay in their homes and that local councils have a strong track record of providing support to households at risk of homelessness and so should be a first point of call for anyone worried about holding onto their home.
The Minister was speaking as new figures out today show there were 11,820 people owed a main homelessness duty in the second quarter of the year - 17 per cent higher than the same period in 2010.
But the numbers of people in temporary accommodation on 30 June this year fell by four per cent compared to the same date in 2010.
Councils have a duty to ensure that free housing advice and information is available for everyone seeking it and that they may be able to help people stay in their home by:
providing budget and rent advice - if a household is having problems paying the rent and are at risk of losing their home;
helping find out if households are eligible for any benefits to help with housing costs; and
speaking to the landlord on behalf of those at risk of eviction, or offering a rent bond to help them find alternative private rented accommodation.
People can also speak to their mortgage lender who may be able to change the terms of mortgages to make repayments more affordable, or to an independent charity such as Shelter, the National Debtline or Citizens Advice Bureau, who could provide advice and help with managing finances.
Grant Shapps said:
Whilst homelessness remains at a historic low, today's figures underline how the effects of the worst recession for a generation continue to deliver difficult times for households up and down the country.

But anyone facing financial difficulty or the prospect of losing their own home is not alone. There is help available and everything will be done to help people avoid homelessness: I urge anyone who thinks they may be at risk of losing their home to take action immediately, and give themselves a greater chance of staying in it.

Whilst this Government gets on with the rescue mission on our economy - dealing with the huge deficit we inherited to avoid the need for rapid increases in interest rates and keep further pressure off households, households themselves must seek early support from their council, lender or one of the charity bodies who offer support.
Yesterday, Mr Shapps met with 50 housing developers to hear about their plans to get Britain building again and how Government-led efforts to help those in housing need are being supported by the industry. And he heard first hand how the Affordable Homes Programme will exceed original expectations - delivering an estimated 150,000 new affordable properties - an increase of 20,000 homes on that expected.
He said that this demonstrated that Government was taking the action necessary to getting the economy back on track, support growth and shore up the long-term outlook for homeowners. Other measures crucial to this he said were reforming the slow and inefficient planning system and cutting red tape and scrapping costly regulations, to make housing more affordable and unlock new investment in the sector.
Notes to editors
Anyone struggling with their mortgage can go to the Directgov Mortgage Help website at www.direct.gov.uk/mortgagehelp (external link) for advice on getting their finances back on track.

Details of today's figures can be found at: www.communities.gov.uk/housing/housingresearch/housingstatistics/housingstatisticsby/homelessnessstatistics/publicationshomelessness/.
Twitter
Keep up to date with the Department by following us on Twitter (external link).
Media enquiries
Visit our newsroom contacts page for media enquiry contact details.
Published 8 September 2011