Grant Shapps issues landlords with call to arms on tackling homelessness
Housing Minister Grant Shapps has today called on the country's top 50 housing associations to use their expertise and wide-ranging experience…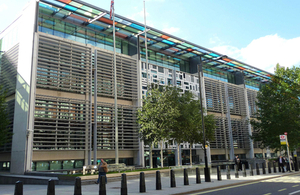 Housing Minister Grant Shapps has today called on the country's top 50 housing associations to use their expertise and wide-ranging experience to bolster Government-led efforts to tackle homelessness.
The Minister highlighted the need to help prevent people from sleeping on the streets, and to provide a lifeline to those who have been left languishing on social housing waiting lists for years.
On Wednesday, he met the 50 housing associations whose contributions will help ensure that the Government's Affordable Homes Programme will exceed original expectations.
Contrary to recent reports, the Government is on track to exceed original estimates of 150,000 new affordable properties - by 20,000 homes. The 50 developers Mr Shapps met today will build the vast majority of homes in the programme - some 75 per cent.
And going forward, the Government is also inviting views on the draft National Planning Policy Framework, which streamlines national policy from over 1,000 pages to just 52 pages of policy. Combining all national planning policies into one concise document will unblock the system to enable more homes to be built.
Many of these homes will be available for those people on social housing waiting lists - but the Government is also taking steps to help those who have been sleeping rough or are in temporary accommodation.
For the most vulnerable in our society, the Minister emphasised how the Government is maintaining the homelessness grant, with £400million funding available to tackle homelessness, while the London "No Second Night Out" project is being extended nationwide to ensure no-one spends more than one night on the country's streets.
And for the first time, the Government has established a Ministerial Working Group on homelessness, which brings together eight departments to tackle its complex causes.
And the Localism Bill currently before Parliament contains proposals to give councils flexibility to offer those owed the main homelessness duty good quality private rented housing - with legislation still in place to ensure no family spends time in Bed and Breakfast accommodation unless in an emergency, and then for no more than six weeks.
The Minister also pointed to the need to keep interest rates low, and to do this the Government must continue to cut the deficit it inherited, to help people stay in their homes. That is why reforms are being introduced to cut the housing benefit bill, but with a £190million fund available to councils to help those most in need.
Mr Shapps also highlighted how these 50 housing associations area valuable part of the solution to tackling homelessness, and can use their expertise to provide the stable and secure roof over the heads of those people in desperate need of housing.
Grant Shapps said:
There is a need to tackle homelessness in this country. Families who have been languishing on waiting lists for years are crying out for the stability and security that a new home can provide, and I want to see an end to the need for anyone to sleep rough on Britain's streets.

That's why for the first time we have a cross-Whitehall group of ministers dedicated to tackling its complex causes, and it's why we're maintaining £400million homelessness grant funding. But I also see a crucial role for housing associations.

Already they are helping to ensure our Affordable Homes programme exceeds expectations and delivers up to 170,000 new homes. But today I'm calling on the country's top 50 landlords to work with Whitehall and Town Halls and offer their experience and expertise to help those in greatest need across the country.
Alongside the Affordable Housing Programme the Government has already made £200million payments to councils through the New Homes Bonus, which matches the council tax raised on new properties for six years - with extra funding for new affordable homes.  Further funding is due to be announced shortly.
The Minister highlighted the new FirstBuy Scheme, which will help over 10,500 people get their first foothold on the property ladder, as a key measure the Government is taking to help more people realise their dream of home ownership.
Twitter
Keep up to date with the Department by following us on Twitter (external link).
Media enquiries
Visit our newsroom contacts page for media enquiry contact details.
Published 7 September 2011