Grant Shapps encourages communities to high jump red tape and celebrate London 2012 with their own street games
Grant Shapps has fired the starting pistol in the race to get Britain warmed up for London 2012 and plan street games.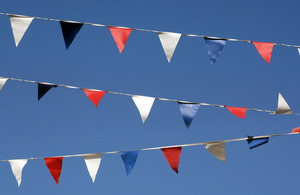 The minister urged communities across the country to dive right into the spirit of London 2012 and host sporting events in their own neighbourhoods - before, during and after the Games.
He also put the ball firmly in the court of local councils, urging them to "high jump over red tape and regulations" and make it easier for communities to come together for sack races, football tournaments and tug-of-war contests in their streets. And where poor weather threatens to stop play, Mr Shapps called on councils to look at how community halls could be offered as possible venues for local events.
Ministers want councils to avoid putting hurdles in the way of communities hosting their own street games, and become key team players in helping to hit the target of increasing the nation's participation in sport - a vital part of London 2012's enduring legacy.
The minister argued that communities should box clever and avoid some of the common myths about hosting events such as street sports days. The government is taking steps to bust the many 'health and safety myths' that often prevent neighbourhoods from putting on their own events. These include:
the need for a licence - organisers do not need a licence unless they plan to sell alcohol or charge for a performance
fees charged for road closures - the government has scrapped guidance that was used by councils as a means of charging people wanting to close their road, but now councils will charge nothing for this
the need to buy expensive road signs and insurance - some councils lend signs and cones to organisers, while Streets Alive have downloadable signs from their website, which also includes advice on insurance
plans to scrap the need for Temporary Entertainment Licences, making it easier for streets to play music at their Games; under government proposals, rules requiring people to apply and sometimes pay for licences for many events where there is little or no risk of trouble would be scrapped
Grant Shapps said:
"Next year, people across the country will rightly want to celebrate London hosting the greatest sporting event in the world. But residents shouldn't have to wrestle with bureaucracy to put on their own events - it should be easy to team up and celebrate next year's Olympic Games with their own street games.
"That's why I want councils to be the torch-bearers for getting the nation on their feet and getting more involved in sport. Rather than putting up the hurdles and preventing communities from putting on their own street games, I want them to high jump the red tape and regulations and make arranging local events easier.
"We want London 2012 to be the best Games ever, but preparations should not be confined to the capital. Getting ready for next year's once-in-a-lifetime event is a marathon, not a sprint, so I would urge councils and communities across the country to start planning now for their own celebrations."
Published 19 November 2011