Grant Shapps calls on social landlords to help their tenants reduce energy bills
Housing Minister Grant Shapps today called on councils and housing associations across the country to help their tenants during this time of…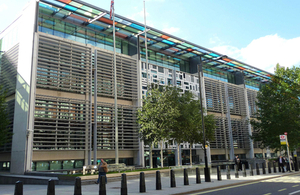 Housing Minister Grant Shapps today called on councils and housing associations across the country to help their tenants during this time of high energy prices by taking steps that could save each tenant up to £500 a year on energy bills and create thousands of jobs in their local communities.
With the countdown to the Government's Green Deal initiative underway, the Minister urged social landlords to make a positive difference to their tenants' lives by using existing funding models to start their own 'Pay As You Save' scheme, making homes in their area warmer and more comfortable to live in, and at the same time cheaper to run. 
Mr Shapps pointed to pioneer projects, similar to the Green Deal, which have already started and could be replicated elsewhere. In the largest scheme of its kind in Manchester, the Social Homes Ecofit scheme means improvements such as solid wall insulation and better heating systems are being made to up to 9,000 social homes to make them more energy efficient, at no upfront cost.
The upgrades could save tenants up to £500 per year on energy bills, and at the same time create more than 1,800 jobs and bring a £100 million boost to businesses in Manchester carrying out the home improvements. Mr Shapps now wants other social landlords to follow their lead, and use every opportunity to improve the lives of their tenants and at the same time bring a much needed economic boost to local economies.
Housing Minister Grant Shapps said:
Our homes count for over a quarter of all UK emissions - it's essential we do more to make them greener. And at time when tenants are feeling the pinch of high energy prices, it is more important than ever that social landlords use this opportunity to take the simple steps that could save their tenants hundreds of pounds through reduced bills.

Measures such as the Green Deal will make a huge difference to the lives of tenants, and help landlords in their efforts to make their homes cleaner and greener. By making the most of the opportunities that are available now social landlords can get a head start on upgrading their homes and give an immediate shot in the arm to the local economy.

In Greater Manchester a number of projects are already underway to improve thousands of homes so tenants can enjoy the benefits of warmer homes and lower energy bills. The scheme will not only reduce tenants' energy bills but also create hundreds of jobs for local people. So I want other social landlords to learn from their example, and see what they can do to help their tenants and boost local businesses.
Under the Green Deal, which will launch in autumn 2012, homeowners and tenants will be able sign up for Green Deal providers to upgrade properties so they become more energy efficient. No money will be paid upfront - instead people will be able to pay for the improvements over time, with the costs to upgrade the property paid back from the savings on energy bills. By allowing the improvements to be paid for gradually, the scheme will remove one of the biggest barriers for retrofitting existing homes - the cost of the initial investment.
Notes to editors
1. Social landlords can use their existing powers to vary rents and service charges paid by tenants to gradually recoup a proportion of the upfront costs of the energy efficiency improvements. The increased charges will be offset by lower fuel bills so tenants will still be better off - a 'Pay As You Save' model similar to the Green Deal. The remainder of the costs can be met through other existing funding sources such as:
The Community Energy Saving Programme (CESP), which requires energy suppliers to deliver every saving measures to customers in the most deprived parts of the country; and

The Carbon Emissions Reduction Target (CERT), which requires the "big six" energy suppliers to make savings in the amounts of carbon dioxide emitted by households, by promoting low-carbon technologies.
More details of these schemes can be found at:
3.  Details of the Green Deal, due to launch in Autumn next year, can be found at: www.decc.gov.uk/en/content/cms/tackling/green_deal/green_deal.aspx (external links).
Twitter
Keep up to date with the Department by following us on Twitter (external link).
Media enquiries
Visit our newsroom contacts page for media enquiry contact details.
Published 24 October 2011