Grant Shapps announces package of measures to protect the vulnerable
Housing Minister Grant Shapps today outlined how the most vulnerable in society will be protected as the Government takes steps to tackle the…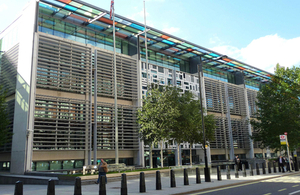 Housing Minister Grant Shapps today outlined how the most vulnerable in society will be protected as the Government takes steps to tackle the record deficit.
The Minister confirmed £10 million funding this financial year for local authorities in London to help those households that are affected by the proposed Housing Benefit reforms. Funding may be used to provide financial advice, renegotiating rents and where necessary helping people move to more affordable accommodation. £750K has also been provided to support the 'No second night out' rough sleeper project in London. A further £1.5 million has been made available to help improve access to the private rented sector for single homeless people through the voluntary sector across the country.
This funding is on top of measures in the Spending Review designed to help the most vulnerable - including the homeless.
Over £400 million will be made available through homelessness grants over the Spending Review period to support the most vulnerable and tackle homelessness. The Government is also continuing to invest in the Places of Change hostels improvement programme, to ensure those coming off the streets get the support they need. Over £200 million over the Spending Review period will keep the Mortgage Rescue Scheme open to support homeowners facing the real and frightening prospect of homelessness as a result of repossession, to stay in their homes.
The Supporting People programme, which helps over a million of the most vulnerable people in our society to live independent lives including homeless people, victims of domestic violence and the elderly, was also protected as far as possible in the Comprehensive Spending Review - with £6.5 billion available over the next four years.
Grant Shapps said:
It is vital to Britain's economic future that we tackle the record Budget deficit that we inherited but we must also ensure that the most vulnerable in our society are protected. That's why in the Spending Review, we have maintained funding where it is needed most.

That's why we've protected homelessness grant funding, providing over £7 billion to support struggling families and the most vulnerable, helping families avoid repossession, helping take rough sleepers off our streets and helping people live independent lives that couldn't otherwise do so.

And today, I can confirm an extra £10 million for London councils, so they can support families affected by the housing benefit changes, and an additional £750K to help work towards ensuring no-one spends more than one night sleeping rough.
Twitter
Keep up to date with the Department by following us on Twitter (external link).
Media enquiries
Visit our newsroom contacts page for media enquiry contact details.
Published 25 October 2010