World news story
Graduation of the two Kosovo Security Force Female members
Two Kosovo Security Force Female Officers Graduate from the Royal Military Academy Sandhurst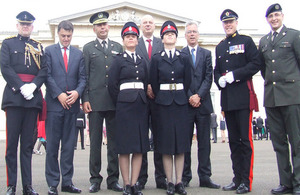 On 9 Aug 2013 Second Lieutenants Manushaqe Nura and Mimoza Budeci from the Kosovo Security Force marched up the steps of Old College at the Royal Military Academy Sandhurst signifying their successful completion of a tough year of military leadership training. HRH the Countess of Wessex represented the Queen at the traditional Sovereign's Parade which is the graduation parade of the Sandhurst cadets.
This is the first time that the Kosovo Security Force has sent female officers to the Royal Military Academy Sandhurst, and both officers put in strong performances throughout the year representing Kosovo in an extremely positive manner. "I had a sense of pride and responsibility for representing Kosovo in the best possible way," said Mimoza Budeci. "As a representative of Kosovo in the British Royal Military Academy, it was my great pleasure to tell all the cadets that Kosovo, after only 14 years since the war, has managed to educate officers who are able to compete with officers from other European countries," added Manushaqe Nura.
The Royal Military Academy Sandhurst has been the home of British Army officer training since 1947, when it was formed by a merger between the Royal Military Academy Woolwich (which trained Royal Artillery and Royal Engineer Officers since 1741) and the Royal Military College (which trained infantry and cavalry officers since 1802).
In its modern form Sandhurst as it is commonly referred to is a centre for military leadership development and runs a physically and mentally challenging one-year course to develop future military leaders in the skills and proficiencies they will require to successfully command. As well as being required training for all British Officers it is also open to selected candidates from the armed forces of other countries from around the world. Funding for the two officers attending the Royal Military Academy was provided by the United Kingdom as part of a wider programme of activities to assist development of the Kosovo Security Force.
Published 26 September 2013