Government to maximise 2012 economic growth opportunities – with overseas investment drive
The successful delivery of the Olympic Park can play an important part in the Government's growth agenda, Jeremy Hunt said today.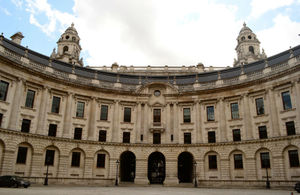 The Department for Culture, Media and Sport has appointed creative communications agency Mother to work with partners across Government to co-ordinate and develop communication activity overseas before, during and after 2012. In the first instance this will focus on tourism and trade and investment opportunities from 'One Year to Go' (27 July 2011).
Speaking on the day that construction of the 12,000 seat Basketball Arena was completed, Mr Hunt said: "It is important that we continue to maximise the benefits from the Games for the whole of the UK. That means making sure we are in the best possible place to win new business overseas off the back of the successful delivery of the Park, to promote this country abroad and attract more visitors to the UK. The Olympic and Paralympic Games in 2012 have an important part to play in the Government's growth agenda.
"The Department for Culture, Media and Sport is working with the Foreign and Commonwealth Office, Visit Britain, UK Trade and Investment, the Department for Business, Innovation and Skills, and the British Council to ensure Government is in the best possible position to co-ordinate its promotional activities overseas and to maximise this great opportunity for the UK.
"Today the Olympic Delivery Authority has announced that construction of the temporary 12,000 seat Basketball Arena has been finished with more than a year to go and within budget. This is the fifth venue to be completed and follows the White Water Centre at Broxbourne, Velodrome, Olympic Stadium and Handball Arena.
"This is a fantastic achievement and further evidence that the Olympic Park is fast becoming a showcase for the best of UK plc - great design, engineering, construction and project management. There is no doubt that it will be a fitting stage for the world's greatest athletes next year."
Press Enquiries: 020 7211 2210
Out of hours telephone pager no: 07699 751153
Public Enquiries: 020 7211 6000
Published 9 June 2011