Government support remains in place to help people stay in their homes
Housing Minister Grant Shapps has said that a wide range of support is available to support people threatened with homelessness, in particular…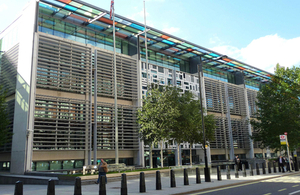 Housing Minister Grant Shapps has said that a wide range of support is available to support people threatened with homelessness, in particular struggling homeowners. It is imperative that people seek help and advice as early as possible. It comes as new figures out today show that 11,350 households were accepted as owed a main homelessness duty in the first three months of the year.
He said that whilst it was good news that the number remained at historically low levels and those households in temporary accommodation continued to fall, tackling homelessness remains a Government priority. That is why deliberate steps were taken at the Spending Review to protect the £400m homelessness grant to support local authorities and the voluntary sector, enabling them to support vulnerable individuals and families.
Those seeking advice can visit the Directgov website, speak to the charity - Shelter, call the National Debtline or visit their local Citizens Advice Bureau or local authority. We have continued support for the National Homelessness Advice Service that ensures front-line advice workers have the support they need to tackle homelessness effectively.
And Government has committed to removing the restrictions on local authorities to give them greater flexibility in prioritising housing stock in their area. Proposals in the Localism Bill, currently before Parliament, will allow them to better serve families with a temporary housing need by offering them a place in the private sector - which with a minimum tenure of 12 months would provide them with a secure footing on which to re-build their finances.
Grant Shapps said:
Today's figures underline how the recession has brought difficult times for lots of people. I urge anyone who thinks they may be at risk of losing their home to take action immediately. There is help available and repossession should only ever be the very last resort. No one in financial difficulty should be embarrassed to seek help if they need it and worried homeowners should speak to their mortgage lender immediately.

There are challenges ahead for homeowners in 2011 - so the most important thing that Government can do is to continue our efforts to tackle the record deficit. By doing this we can avoid the need for rapid increases in interest rates, and keep the pressure off homeowners facing financial hardship.
Notes to Editors
Anyone struggling with their mortgage can go to the Directgov Mortgage Help website (www.direct.gov.uk/mortgagehelp - external link) for advice on getting their finances back on track.

Details of today's figures can be found at: www.communities.gov.uk/housing/housingresearch/housingstatistics/housingstatisticsby/homelessnessstatistics/publicationshomelessness/.
Twitter
Keep up to date with the Department by following us on Twitter (external link).
Media enquiries
Visit our newsroom contacts page for media enquiry contact details.
Published 9 June 2011