Government strategy to regenerate high streets
Long-term plan to support the evolution of high streets into thriving places to work, visit and live will breathe new life into town centres.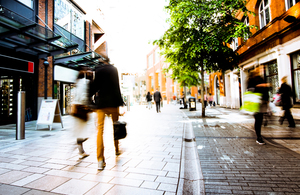 New high street strategy to transform town centres into vibrant places to live, work and visit
Derelict buildings to be transformed, streets to be cleaned up, and communities across the UK given the chance to own their local pubs, theatres, sports grounds and corner shops
15 Town Deals confirmed worth £335 million to revitalise towns across England
The government's long-term plan to support the evolution and regeneration of high streets has been launched today (15 July 2021).
Speaking from the UK Battery Industrialisation Centre (UKBIC) in Coventry, the Prime Minister set out his vision on how the government would level up and unite the country, and his commitment to breathe new life into town centres.
The high streets strategy is a key part of the Prime Minister's plan to level up and will deliver visible changes to local areas and communities across England, transforming derelict buildings, cleaning up our streets, and supporting a renewed sense of community for current and future generations.
Councils in England will be given the power to transform towns, taking over derelict buildings through compulsory purchase orders so they can be converted into new homes if property owners stall on regeneration plans. Councils will also be encouraged to use existing powers to convert empty offices into housing, and empty shops will be transformed into entertainment venues or thriving new businesses without the need for planning permission.
Local economies and plans for growth will be boosted with 15 Town Deals totalling £335 million confirmed today. The Town Deals will fund community regeneration projects including repurposing empty shops on high streets, creating new public spaces, transforming a riverfront area into a community hub with entertainment and leisure venues, and creating a new digital enterprise and learning centre. Town Deals have now been offered to all 101 places that were invited to develop proposals.
Communities Secretary Robert Jenrick said:
As we build back better from the pandemic, we are transforming our high streets across the UK into the kind of vibrant places we will want to visit, work and call home for generations to come.

This strategy sets out a vision for entrepreneurship to thrive, where local shops and businesses are supported with permanent al fresco dining, derelict eyesores transformed into quality homes and new hubs for business and entertainment encouraged.

With more funding for town centres and powers for communities to take a stake in their local area, we are delivering on our commitments to level up and put power in the hands of local people. I look forward to seeing what local communities have in store for national celebrations such as Her Majesty The Queen's Platinum Jubilee next year – a remarkable occasion that we will mark in style.
A sense of community is at the heart of the strategy, ensuring local areas are protected for current and future generations to enjoy.
New funding will be committed for 'mini-Holland' schemes across England to embed greener forms of transport, encouraging cycling and walking by installing segregated cycle lanes on main roads, expanding space for pedestrians and creating low-traffic neighbourhoods. Funding will be drawn from the £2 billion fund for cycling and walking announced by the Transport Secretary in May 2020.
The government will tackle graffiti and litter across town centres. A new taskforce will work to eradicate chewing gum from the streets, with gum producers investing £10 million over the next 5 years to help fund councils to clean up gum from the streets and support schemes to prevent people from littering in the first place.
Councils will be encouraged to take a more hands-on approach to cleaning up graffiti, supported by £2 million in funding. New guidance for councils in England to manage graffiti will be published giving examples of good practice, drawing on the latest research and professional expertise and highlighting the importance of keeping high-streets clean and clear of graffiti. A UK wide, annual National High Streets Day will be launched to ensure cleaner streets that communities can truly be proud of, involving the whole community.
Government funding will be available to save local venues loved by a community. Details have been published setting out how community groups across the UK can bid for up to £250,000 in matched funding from the £150 million Community Ownership Fund to take over local pubs, theatres, shops and sports grounds at risk of closure.
In some cases up to £1 million will be available to establish sports clubs or help to buy sports grounds at risk without community intervention, preserving local treasures for the next generation and supporting grass roots, community led schemes.
Hospitality will also be given a boost with the streamlined pavement licensing system extended for 12 months across England so more shops, cafes and restaurants can make use of outdoor areas, with an intention to make this permanent.
The government will work to bring back street parties, making it easier for people to hold celebrations in their neighbourhood streets and picnics during national celebrations like the Commonwealth Games. Councils will be invited to plan exciting events for Her Majesty The Queen's Platinum Jubilee, making their civic locations available so communities across the UK can come together.
Richard Walker, Managing Director of Iceland Foods, said:
Strong, vibrant high streets are the beating heart of proud, local economies so as we emerge from this pandemic I'm delighted it has been recognised.

For over 50 years, and now with over 1000 stores, we have always stood proudly on high streets across the whole UK, and now is the perfect time to remove some of the outdated planning practices that have stood in the way of local regeneration and growth.
Nick Mackenzie, Chief Executive of Greene King, said:
We welcome this levelling up announcement from the government, which aligns with our own goals to enhance the social mobility chances for people across the country by helping them to build careers in hospitality.

As an employer of 40,000 people, the easing of restrictions from 19 July gives us an opportunity to rebuild our business, protect jobs and recover trade following a year of closures and restrictions in the face of COVID-19. We know it's going to be a long road, which is why longer-term measures such as increasing the capacity for alfresco dining and takeaway pints is something that would make a real difference to our trading abilities, as well as hopefully further encouraging customers to support their local high street once more.
Today's announcement follows major investment and action from government to level up opportunity and prosperity across all areas of the country, including through the £4.8 billion Levelling Up Fund, the £220 million UK-wide Community Renewal Fund and the £830 million Future High Streets Fund.
This builds on significant flexibilities already made in the planning system, so that empty offices and shops can be converted into housing, and retail businesses can change use without needing planning permission.
The government will continue to work closely with the devolved administrations, local authorities and partners across Scotland, Wales and Northern Ireland as the strategy is implemented.
Further information
Humphrey Cobbold, PureGym Group CEO, said:
With more and more shops lying empty on high streets, an issue exacerbated by the pandemic, gyms and fitness centres can be part of the solution for rejuvenating town centres and restoring them to their former glory. We're really pleased the government has heeded our call and announced a more flexible approach to planning permissions, which will enable operators like us to transform unused retail units on high streets into gyms and provide new jobs in local areas. PureGym is committed to UK expansion, offering affordable fitness to the nation and bringing much needed footfall to its high streets.
Will Shu, CEO and founder of Deliveroo, said:
These plans will be welcomed by many of our restaurant partners. Restaurants tell me how important the steps taken by the government during the pandemic have been and this announcement will help many of our partners kick-start their dine-in businesses while also being able to serve customers through delivery. This is good news for restaurants, for customers and for Britain's high streets.
High Streets Strategy
We will encourage cleaner high streets through a National High Streets Day: a day where communities come together to support town centres to look the best they possibly can, increasing footfall in the process:
In 2019 Altrincham town centre in Greater Manchester - which had been crowned 'Best High Street' in England in the 2018 - was selected as the pilot for a National High Street Perfect Day. Footfall data compiled by the retail analysts Springboard suggested that the day helped to boost footfall that year by 3.1 percent.
In Crickhowell, Powys, Wales, the overall winner of the Great British High Street Awards in 2018, the community had 150 people cleaning their high street prior to the judges visiting. While their winning entry encompassed much more than just a tidy high street, the efforts demonstrated the strength of their community and pride in their high street.
Towns Fund
From transforming the Kings Chase shopping centre in Kingswood into housing and a community services hub, to revamping Sunderland's ice rink into a family entertainment venue, these innovative projects are creating jobs and increasing footfall on our high streets.
The towns deals announced today will see millions of pounds invested in projects across England including:
£22.9 million to boost the leisure and tourism sector in Crewe by regenerating the Swimming Baths, repurposing empty shops on the high street and creating new public spaces.
£19.9 million to place the river Thames at the heart of the community in Grays, through transforming the riverfront area into a community hub with entertainment and leisure venues as well as improving water-based transport options to better connect the town with London and Kent.
£20.6 million to attract visitors to Millom by highlighting the history and heritage of the town with a new "Iron Line" project at the historic Hodbarrow Reserve, creating a fully accessible new park fusing ecology, heritage and art.
£17.5 million to create a new public square in Todmorden to increase community space and highlight the towns green credentials, along with building a five-star eco hostel and setting up a digital enterprise and learning centre.
The 15 towns and funding allocations:
| Town | Allocation (£ million) |
| --- | --- |
| Birkenhead | 25 |
| Bloxwich | 21.3 |
| Blyth | 20.9 |
| Crewe | 22.9 |
| Darwen | 25 |
| Dudley | 25 |
| Grays | 19.9 |
| Millom | 20.6 |
| Nelson | 25 |
| Newhaven | 19.3 |
| Runcorn | 23.6 |
| St Helens | 25 |
| Stainforth | 21.6 |
| Tilbury | 22.8 |
| Todmorden | 17.5 |
This strategy will support areas to build back better from the pandemic, helping transform town centres into vibrant places to live, work and visit.
Office address and general enquiries
2 Marsham Street
London
SW1P 4DF
If your enquiry is related to COVID-19 please check our guidance page first before you contact us - https://www.gov.uk/guidance/coronavirus-covid-19-guidance-for-local-government.

If you still need to contact us please use the contact form above to get in touch, because of coronavirus (COVID-19). If you send it by post it will not receive a reply within normal timescale.
Published 15 July 2021