Press release
Government spend slashed by £60 million on staff costs and Government Procurement Cards as more data opened up for first ever time
The government has reduced its spend on Government Procurement Cards and bonuses by £60 million, and published a wealth of new information.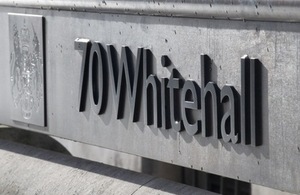 As part of its commitment to drive out unnecessary costs and make the UK a world leader in transparency, Francis Maude, Minister for the Cabinet Office, today (27 October 2011) announced the government has reduced its spend on Government Procurement Cards and bonuses by £60 million and published a wealth of new information.
New data published today shows that £15 million has been saved in this financial year (2011 to 2012), by limiting performance related pay bonuses to top performers, while spend on Government Procurement Cards has been cut by around £45 million between 2009 to 2010 and 2010 to 2011.
The data also shows a significant fall in the number of consultants. In 2009 to 2010 the government spent £1.4 billion on consulting. In 2010 to 2011 this spend fell to £500 million, a reduction of 70% or £870 million.
For the first time ever taxpayers will be able to scrutinise a range of data, including:
All data can be accessed on data.gov.uk.
Francis Maude, Minister for the Cabinet Office said:
Today's releases show just how serious we were when we said we were determined to become a world leader in transparency.  Like previous releases today's datasets on GPC, performance related pay and monthly workforce information are unprecedented and will give the public another way of scrutinising how government spends its money and holding us to account.

But what today's data also shows is how seriously the Civil Service have taken their role in helping us to drive out waste at the very heart of government and get a grip on expenditure. 

We said that we would reduce spend on Government Procurement Cards and today we have the evidence. In the last year spend on these cards has been cut by around 10% across government. We said we would reform performance management and we can now reveal we have saved £15 million by cutting back on performance payments made to senior staff. This is not the end - we will leave no stone unturned in our bid to save the taxpayer money.
Notes to editors:
The Government Procurement Card (GPC) is a payment charge card, designed to be settled in full at the end of each month. Government will always have to make purchases and GPC allows all levels of public sector workers to pay for low value items in a low-cost, secure and efficient way.
The use of GPC greatly speeds up the circulation of cash in the economy and allows suppliers to be paid much more quickly - this has been particularly beneficial for small and medium enterprises with cash flow problems caused by late payments.  We have recently strengthened the guidance on using the cards.
Cross-government GPC spend:
| Financial year | GPC spend across government (millions) |
| --- | --- |
| 2009 to 2010 | £387 |
| 2010 to 2011 | £341.9 |
Non-consolidated Performance Related Payments are one-off, non-pensionable awards that are made to individuals to reward high performance against objectives or for specific tasks. Such payments to senior staff for 2010 to 2011 performance have been restricted to the top 25% of performers only, down from 65%, delivering savings of around £15 million. We have also sharpened the performance management system that underpins such payments.
The monthly information on workforce provides an insight into how many people are employed in each department and their pay bill for April to August 2011.
The government's commitment to publish all spend over £25,000 continues with the next set of data released today.
Central government, excluding the Ministry of Defence, report a further reduction in consultants on headcount from 700 in March 2011 to 400 in July of the same year - a further 40% reduction.
As part of the transparency agenda, departments also published today the latest business quarterly data summaries (QDS) - a quarterly snapshot on how each department is spending its budget, the results it has achieved and how it is deploying its workforce. The QDS is focused on improving in-year transparency of information on departmental business. Further information about the QDS can be found on GOV.UK.
Published 27 October 2011