Government slashes cost of the public sector estate
The costs of running the central government property estate have been cut by £278 million in the financial year 2010 to 2011.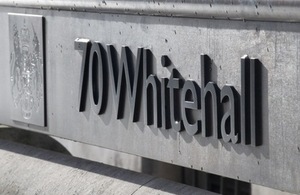 The costs of running the central government property estate have been cut by £278 million in the financial year 2010 to 2011, Minister for the Cabinet Office Francis Maude announced today.
The figures have been published in today's State of the Estate Report on the efficiency and sustainability of the central government estate. 
The wide ranging report shows that during 2011:
the overall size of the central estate fell by 5.8%  - or 7 times the equivalent office space of Europe's tallest building, the Shard in London Bridge
the number of property holdings fell by 11.1%
running costs reduced by £278 million year-on-year
departments beat the 10% Prime Minister's CO2 reduction challenge as early as May 2011, with a total emissions reduction of 13.8%
more than half of government buildings with Display Energy Certificates had an energy efficiency rating better than the industry standard for the first time
the average cost of office space is 16% less than the private sector average
Minister for the Cabinet Office, Francis Maude, said:
Taxpayers should not foot the bill for property that isn't needed and that's why this government introduced strict property controls when we came into office. Since May 2010 we have exited 904 properties saving millions as well as providing vital opportunities for regeneration in local communities.

The government estate is now greener, leaner and cheaper to run. Today's report shows just how much we can achieve when the government acts as a single organisation, but there's more to be done to drive out inefficiency."By consolidating our property estate we are helping transform the way government works, introducing modern, flexible workplaces to drive up productivity and innovation.
Better use of property is also important for private sector growth - exiting leasehold properties can lead to much needed regeneration opportunities. For example: 
Market Towers on Nine Elms in London was used by the Medicines and Healthcare products Regulatory Agency (MHRA) and the National Patient Safety Agency, and has been vacated by the government. It is at the gateway to the Vauxhall Nine Elms Battersea Opportunity Area, which stretches from Lambeth Bridge to Battersea Power Station, and has been earmarked by London's Mayor for major redevelopment, including 16,000 new homes and 25,000 new jobs. 
Riverwalk House on Millbank - previously used by the Government Office for London, the private sector developer now plans to re-develop this building and change use into residential accommodation
when the *Office for National Statistics (ONS) needed to relocate staff outside of London, poor market conditions made it difficult to exit its lease; to enable ONS to move, the Ministry of Justice, National Savings & Investments, Passenger Focus and the Crown Prosecution Service jointly took over the lease - vacating over 30 properties and reducing costs as well as the overall size of the estate
The government's new approach means departments no longer work in silos when it comes to property, and now consider the needs of the government as a whole. Tight property controls exist where departments need to seek permission to renew leases or enter new ones.
By looking across government, it's now possible to identify where surplus property sits. Where it is not possible to sell a building or exit a lease due to market conditions, space will be made available to SMEs and free schools, where possible, to give them an opportunity to grow. 
Published 23 May 2012