Government sets out plans to upgrade UK energy infrastructure and increase clean energy investment
First £290m of Contracts for Difference funding for renewable electricity; consultation on proposals to end unabated coal power generation by 2025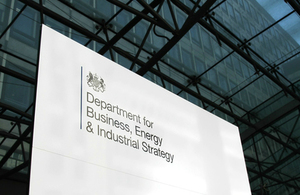 The Government has today reaffirmed its commitment to spend £730m of annual support on renewable electricity projects over this parliament, and set out further details for the next Contracts for Difference auction where companies will compete for the first £290m worth of contracts for renewable electricity projects.
The second Contracts for Difference auction will result in enough renewable electricity to power around one million homes and reduce carbon emissions by around 2.5 million tonnes per year from 2021/22 onwards. It will also allow developers of innovative renewable technologies to deliver the best deal for bill payers. For example, the maximum price for offshore wind projects is now 25% lower than was set for the last auction, and a competitive auction could bring that price down further.
The Government has also today set out proposals for the next steps to phase out electricity generation from unabated coal-fired power stations within the next decade. This long-term plan will provide confidence to investors that the UK is open to investors in new, cleaner energy capacity as we transition from coal to gas, and build a diverse energy system giving us greater security of supply, which includes record investments in renewable technology and the reliable electricity that new nuclear power investment will provide.
Business and Energy Secretary Greg Clark said:
"We're sending a clear signal that Britain is one of the best places in the world to invest in clean, flexible energy as we continue to upgrade our energy infrastructure.
"This is a key part of our upcoming Industrial Strategy, which will provide companies with the further support they need to innovate as we build a diverse energy system fit for the 21st century that is reliable while keeping bills down for our families and businesses."
These are essential elements of the Government's plan to upgrade the UK's energy infrastructure, lower our carbon emissions and spur on the growth of large scale, low-carbon energy – a key part of the global deal to tackle climate change agreed in Paris last year.
Taking unabated coal power out of our energy mix and replacing it with cleaner technology, such as gas, will significantly reduce emissions from the UK's energy use. The government first announced its intention to take unabated coal out of the energy mix in November last year.
The Government is also looking to end uncertainty over whether onshore wind projects on remote islands should be treated differently from onshore wind projects on mainland Great Britain. A consultation is being launched today asking for views which either support or oppose this position which will be reviewed to provide a comprehensive answer.
Business and Energy Secretary Greg Clark will be speaking at the Energy UK Annual Conference on 10th November.
Notes to Editors
The application process for the Contracts for Difference allocation round will open in April 2017.

In the March 2016 Budget, the Government announced £730m of annual support for renewable electricity generation over 15 years, with £290m of annual support for the next allocation round.

It is expected that there will be sufficient interest from developers for a competitive auction to be triggered, as the budget would be insufficient to meet all applications at their administrative strike price.

This allocation round is for less established technologies: offshore wind, Advanced Conversion Technologies, Anaerobic Digestion (>5W), Dedicated biomass with Combined Heat and Power, and wave, tidal stream and geothermal projects starting to generate from 2021/22 or 2022/23.

We are publishing a call for evidence on fuelled technologies and geothermal costs in the Contracts for Difference scheme which will inform future policy, considering whether the support we currently offer to fuelled technologies through the CFD is right to deliver our goals on bioenergy as well as broader departmental objectives on value for money for decarbonisation. The fuelled technology cumulative cap of 150MW (equivalent to a budget maximum of £70m) for this auction is a temporary, precautionary measure introduced while we consider these issues. We will set out at or before issuing the final Budget Notice whether the maxima will be applied on a MW or £ basis. We will publish a geothermal strike price after the call for evidence has concluded.

The consultation on whether onshore wind projects on remote islands should be treated differently from onshore wind projects will be open for 12 weeks until 31 January 2017.

Draft Contract for Difference Administrative Strike Prices (£/MWh, 2012 prices) are set out below. Final strike prices will be confirmed at least 10 days ahead of the allocation round opening:
Technology
For projects deploying
in 2021/22
For projects deploying
in 2022/23
Offshore wind
105
100
Advanced Conversion Technologies (with or without CHP)
125
115
Anaerobic Digestion (with or without CHP) (>5MW)
140
135
Dedicated Biomass with CHP
115
115
Wave
310
300
Tidal Stream
300
295
Geothermal
Further information is sought in the Call for Evidence on Fuelled Technologies and Geothermal
9 The Coal consultation is open until 1st February 2017.
10 The consultation published today invites views on our proposals to impose emission limits on coal stations that would see the use of unabated coal gradually decline over the next few years and stop completely by 2025.
Published 9 November 2016