Government sets out ambitious reform of the water industry
Plans to reform the water industry were published in Parliament today as the Government seeks to slash red tape, drive innovation and open the market to new companies.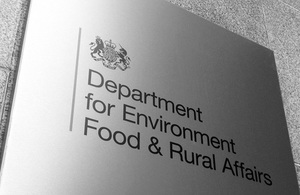 Under the proposals, which have been published for pre-legislative scrutiny, all businesses and public sector bodies in England will be able to switch their water and sewerage suppliers, allowing them to obtain more competitive prices, improve their efficiency and tender for services better suited to meet their individual needs.
Evidence suggests that opening up the water market and allowing businesses to switch supplier could deliver benefits to the economy of £2 billion over 30 years. In Scotland, after similar reforms were introduced, the public sector alone is set to save around £20 million over the next three years.
Secretary of State for Environment, Caroline Spelman said,
"This draft Bill will create a modern customer focused water industry and for the first time all businesses and other organisations will be able to shop around for their water and sewerage suppliers.
"By slashing red tape we will also stimulate a market for new water resources and incentivise more water recycling.
"This will ensure that the water industry continues to provide an affordable and clean water supply which is essential for the nation's economic growth while at the same time protecting the environment for future generations."
Businesses, charities and public organisations with multiple sites will also be able to receive just one combined water and sewerage bill for all their offices and buildings across England and Scotland.
Regina Finn, Ofwat Chief Executive Officer said:
"This Bill is good for the customer, the economy and the environment. As well as, for the first time, giving choice to 1.2 million businesses and other organisations, the Bill is expected to benefit the economy by almost £2 billion. The reforms will help the country become better at valuing, managing and using our water. Now is the time for all players to step up to the plate to deliver the vision of the Bill - including the industry, regulators, consumer bodies and Government."
The draft legislation will remove current regulations which act as a barrier to new entrants wishing to enter into the water and sewerage market. Currently any new entrant needs to negotiate with up to 21 water companies before entering the market. Under these changes there will be no need to do this as Ofwat will set out standard terms and conditions for companies to follow. It will also encourage existing companies to look at offering alternative supplies and services.
The legislation will also make it easier for bulk water trading within the industry, allowing water companies to work more closely to find long term solutions to water security issues.
Increased competition in the wholesale market will give water companies an incentive to come up with cheaper, more sustainable solutions to sourcing water.
The Bill will also make the costs of connecting new developments to the water and sewerage system more transparent. Developers will benefit from the extension of environmental permits to include water abstraction licensing and flood defence consents - reducing the red tape around environmental regulation.
Notes
New arrangements are being put in place to drive forward implementation of the package of reforms of the water sector set out in the Water White Paper and detailed in this draft Bill. A high-level group, including Government, the regulators, market participants and customers will lead this work.
The Government wishes to set an ambitious but achievable goal for establishing a new market for retail water and sewerage services to non domestic customers in England that will work effectively with the market in Scotland. A realistic target date for retail market opening is likely to be April 2017, but this will be confirmed after work through the new high level group to develop a roadmap.
The draft bill is available to view at http://www.defra.gov.uk/environment/quality/water/legislation/water/
Published 10 July 2012