Government seeks views on cat microchipping
The Environment Secretary Theresa Villiers has launched call for evidence on cat microchipping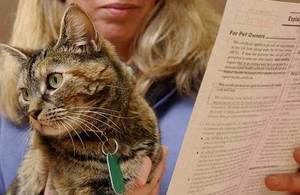 Environment Secretary Theresa Villiers has today launched a call for evidence on cat microchipping as part of plans which could help reunite lost cats with their owners, tackle pet theft and identify cats injured or killed on roads.
The government is seeking to find out what the effect of mandatory cat microchipping would be on owners, rescue and rehoming centres and cats themselves. The call for evidence will last for 12 weeks and respondents are being encouraged to respond as soon as possible.
Environment Secretary, Theresa Villiers, said:
Today's call for evidence on cat microchipping will help the government understand how we can better protect this country's much-loved cats and kittens.

This government is committed to animal welfare and improving the lives of our companion animals.

Today's announcement builds on a series of positive actions we have taken to improve welfare standards in this country, including a ban on the third-party sale of puppies and kittens and a commitment to increase maximum sentencing for animal cruelty from six months to five years.
The process of microchipping involves the insertion of a chip, generally around the size of a grain of rice, painlessly under the skin of a pet. The microchip has a unique serial number which can be read by a scanner. When an animal strays or is lost, scanning the microchip means the registered owner can be identified and the pet can be reunited with them.
Although microchipping is a legal requirement for dogs, it is not currently required for cats unless they are travelling under the Pet Travel Scheme. Compulsory dog microchipping was introduced in April 2016 and statistics show that 92% of dogs are now microchipped. As a result of compulsory microchipping, displaced dogs have been reunited with their owners much quicker, reducing the time they spend in rehoming kennels and reducing owner and animal distress.
Cats Protection's Chief Executive, James Yeates, said:
Cats Protection, the UK's leading cat welfare charity, welcomes this call for evidence on cat microchipping. Microchipping is an essential part of responsible pet ownership, yet each year we still take in thousands of cats which have not been microchipped. The majority of strays we take in are unchipped and so we are usually unable to trace an owner and the cats have to be rehomed.

Microchipping is a safe and permanent way to give a lost cat the best chance of being returned to their home. People tell us how knowing their cat is microchipped gives them reassurance, and it also ensures owners can be informed in the sad event of their cat being injured or killed on the road.
Compulsory dog microchipping was introduced in England through the Microchipping of Dogs (England) Regulations 2015 (the 2015 Regulations). The aim was to improve the welfare of dogs and help reduce issues related to stray dogs.
Published 12 October 2019