Press release
Government secures free travel for London Midland passengers
£7 million package of benefits for rail passengers who suffered cancelled services and delays.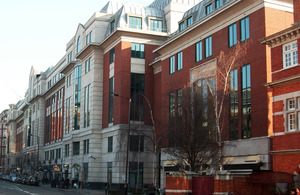 Rail passengers who suffered cancelled services and delays last year will receive free travel passes and cheap tickets thanks to tough action taken by the government, Transport Minister Norman Baker announced today (20 December 2012).
London Midland season ticket holders will be given 5 days worth of free travel passes under a £7 million package of benefits. The government has also secured 500,000 additional cheap advance tickets for passengers on key network routes serving London, Birmingham, Northampton, Crewe and Liverpool and a commitment to invest in infrastructure improvements.
Norman Baker said:
London Midland has cancelled or delayed hundreds of services in recent months. On repeated occasions, they were not able to provide enough drivers and some services had to be cancelled, with severe delays to services, and they have fallen short both of everyone's expectations and their franchise obligations.

Securing these benefits for passengers represents a firm yellow-card for London Midland and some financial benefit for those who have been hardest hit by their poor performance.

I am confident London Midland has now rectified their driver shortage but the company need to be clear that we will continue to monitor their performance closely and take firmer action if necessary.
The free tickets will be available to all monthly and annual season ticket holders, as well as to weekly ticket holders who have been affected by disruption, while the additional advance tickets will be available over the next 2 years to passengers planning to travel on key London Midland routes.
The deal that has been struck will also confirm the end date of the franchise as September 2015, ensuring that London Midland is given sufficient time to resolve these problems on a permanent basis.
London Midland will also spend millions of pounds improving the resilience of their trains and will invest at least £2.25 million on a range of measures to benefit passengers - primarily in the West Midlands, where the worst disruption was experienced.
Notes for editors
The government is taking this action because London Midland were responsible for the cancellation of a high number of services, particularly at weekends and during the half-term period, due to a shortage of drivers.
The free 5-day passes will enable annual and monthly season ticket holders to make additional journeys outside of their regular commute, or as an extension to existing season tickets.
The 500,000 additional cheaper advance tickets will be issued over and above those issued in the last year and will be for travel during 2013 and 2014. The tickets will be available on key routes including London to Birmingham, London to Crewe, London to Northampton and Birmingham to Liverpool.
Press enquiries: 020 7944 3108
Out of hours: 020 7944 4292
Public enquiries: 0300 330 3000
Published 20 December 2012