News story
Government reviews ground-breaking Social Value Act
Lord Young, the Prime Minister's Adviser on Enterprise, led a review of the Social Value Act following its widespread success.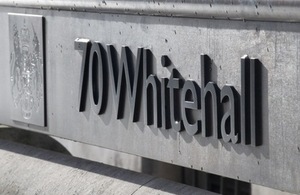 The Social Value Act improves the way taxpayers' money is spent on public services. We are looking at experience of the Act to date and considering the benefits of extending it.
How the Social Value Act works
The Act requires people who commission, or buy, public services to consider securing added economic, social or environmental benefits for their local area. We have been supporting service providers and commissioners to implement the Act and put social value at the heart of what they do.
For example, Wakefield Council wanted a new milk supplier in local schools. They selected Fresh Pastures who deliver milk and also provide local schoolchildren with lessons on healthy living and food miles. Fresh Pastures also provide work opportunities for the long-term unemployed.
The University of Northampton launched the £1 billion University Challenge. It encourages the UK's higher education sector to spend at least £1 billion of the £7 billion it spends on procuring goods and services from social enterprises.
The Social Value Act review
The Act currently applies only to service contracts over the EU threshold, at the pre-procurement stage. Lord Young, the Prime Minister's Adviser on Enterprise, will lead the review, supported by:
the Federation of Small Businesses
Chris White MP
Hazel Blears MP
Michael O'Toole (Crown Representative for the Voluntary Sector and shortly to be Chief Executive Officer of Mentor UK)
The review will help to decide:
if the Act should be extended, for instance, to cover contracts for goods and works as well as services
how it might be extended in a way that continues to support small businesses and voluntary, charity and social enterprise (VCSE) organisations to bid for public contracts
The review team will consider a range of evidence and aims to report on findings in early 2015. We will publish more information about how to contribute views to the review on later in the year.
Lord Young said:
The government has been facing growing calls to extend the Social Value Act and I am delighted that this review will give us the opportunity to fully consider those ideas, thinking about how we can achieve the aims of the Act. I am keen that this does not add any regulatory burden to small businesses, social enterprises, or VCSEs.
Minister for Civil Society Brooks Newmark welcomed the review:
The Social Value Act is already making a significant impact. There are some great examples of how commissioners are using it effectively and there are growing numbers of case studies showing good practice.
Published 26 September 2014
Last updated 24 October 2014
+ show all updates
Added a link to the Social Value Act review page.
First published.