Government response to Lord Bew key stage 2 review published
Government's response to the review and how the recommendations will be taken forward.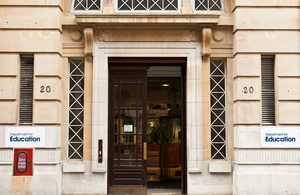 The government has published its response to Lord Bew's independent review of testing, assessment and accountability at key stage 2, accepting all the recommendations in full.
Education Secretary Michael Gove said:
These changes represent an educationally sound approach and substantial reform. The system in future will be fairer for teachers and pupils. It will give parents the vital information they need and will hold schools accountable.
Key changes to the current system will include:
replacing the current writing test with teacher assessment of writing composition from 2013 to ensure that pupils can be more creative and will overcome the dangers of teaching to the test. This teacher assessment will make up the larger part of the overall writing judgement
introducing a test of some of the essential skills needed to become fluent, confident writers - spelling, grammar, punctuation and vocabulary. This will be trialled in 2012 so that it can be introduced in 2013
publishing more data in the 2011 performance tables onwards, including new three-year rolling averages from 2012, to give a rounded picture of a school's performance
placing a greater emphasis on progress made by pupils
giving secondary schools teacher assessment judgements before test results, from 2012. This will mean there is more weight attached to them and allow longer for them to inform year 7 teaching and learning
primary schools providing more information on pupils' performance to secondary schools so year 7 teachers know right from the outset children's attainment and the areas where extra work is needed. This will start in summer 2013
trialling in 2012 of an extension to the testing period, so that pupils who are absent (eg due to illness) on the day of a test will have a week in which to sit it, rather than two days
The review panel was chaired by the cross-bench peer Lord Bew and consisted of headteachers and education experts. Michael Gove set up the review last year. He said external accountability at key stage 2 was vital because it was shown to drive up standards, but agreed the current system was flawed and could be improved.
Lord Bew said:
I am pleased that all our recommendations have been accepted. This is a complex area and many conflicting views were presented to us. But this package will lead to a better system, one that will do the jobs everyone wants it to do and which will have the confidence of all parties involved.
Published 18 July 2011