Press release
Government responds to Hallett Report recommendations
The Secretary of State has advised individuals who received letters through the on-the-run scheme to cease placing any reliance on them.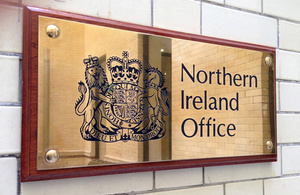 The Secretary for State for Northern Ireland, Rt Hon Theresa Villiers MP, today set out the Government's response to recommendations made by the Hallett Report on the administrative scheme to deal with on-the-runs.
The scheme allowed individuals to inquire whether or not they faced arrest if they returned to Northern Ireland, or the rest of the UK.
Individuals who received letters or statements through the scheme should take careful note of today's statement. Fair and proper notice will also be provided to each of those who made requests on behalf of specific individuals.
The key points that all concerned should be clear about are as follows:
This scheme has ended.
Letters issued in whatever form do not represent any commitment that the recipient will not be investigated or prosecuted, if that is now considered appropriate by the responsible authorities.
Those who received individual or composite letters indicating that they were 'not wanted' and who derived comfort from that, should cease to derive any such comfort.
In short, recipients should cease to place any reliance on their letters.
Decisions about investigation and prosecution in specific cases, now or in the future, will be taken on the basis of intelligence and/or evidence relating to whether or not the person concerned committed offences.
These decisions will be based on the views of those who now have responsibility for these matters. Their views may be the same as those that led to the letters being sent in the past, or they may be different.
This statement does not mean that all those who previously received 'not wanted' assurances are now considered 'wanted'. It simply means they are in the same position as any other member of the public. If there is considered to be evidence or intelligence of their involvement in crime, they can be investigated by the police. And if the evidence is sufficient to warrant prosecution, they will be prosecuted.
The Government is determined to remove barriers to future prosecutions. Today's statement to Parliament addresses recommendations made by the Hallett Report and follows consultation with the independent police and prosecuting authorities on the most effective way to reduce the risk of any future abuse of process defence succeeding, such as in the case of John Downey.
Published 9 September 2014