Government puts public at heart of fight against crime
People will be able to directly influence how the police tackle crime in their area by electing police and crime commissioners in May 2012.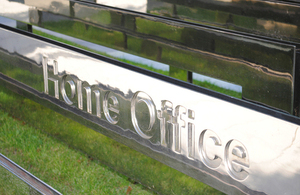 The police and crime commissioners will listen to people's concerns and use them to set local policing priorities that will reduce crime and increase community safety.
They will set the police force budget and hold the chief constable to account for achieving these priorities but will remain operationally independent.
The commissioners will also have the power to appoint - and, where necessary, remove - the chief constable.
Public at the heart of crime cutting
Speaking about the publication of the new Police Reform and Social Responsibility Bill, Theresa May said: 'These new measures will place the public back at the heart of our drive to cut crime, giving them a say in how their local area is policed by electing a police and crime commissioner, and strengthening the powers that police and councils need to tackle crime and disorder at a local level. 
'For too long, the fight against crime has been tangled up in a web of centrally imposed red tape that has driven a wedge between law enforcement agencies and the communities they serve.
'I am determined to rebalance that by giving the public and the police and councils the powers they need to deal with the issues that blight too many of our communities.'
Parliament Square demonstrations
The bill also contains new rules for demonstrations in Parliament Square.
People wanting to stage a static demonstration in Parliament Square will no longer need to give police advance notice, however the police and local authorities will be given the power to prevent people camping and using noise amplifiers on the square.
Mrs May said: 'We fully support the public's right to peaceful protest; however this does not mean allowing individuals to take over a public space, particularly a historic site like Parliament Square, and prevent others from enjoying it.
'These proposals will put a stop to the most disruptive elements such as tents which have turned Parliament Square into a campsite and prevented tourists and Londoners from enjoying this historic landmark.'

Published 1 December 2010