Government publishes report on UK's strategy on the protection of civilians in conflict
The Government has published its annual update on the UK's national strategy on the protection of civilians in armed conflict.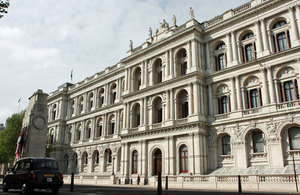 The strategy, which was launched in March 2010, sets out UK Government action to keep the Protection of Civilians at the forefront of its political, security and humanitarian work.
This year has seen unprecedented activity at UN Security Council level to address civilian protection concerns, most notably in Libya and Cote d'Ivoire. In March 2011 Security Council resolution 1973 authorised military action to put in place a no-fly zone to prevent air attacks on the Libyan people, and to take all necessary measures to stop attacks on civilians. The resolution provided a legal basis for this action, expressly authorising the use of force to protect civilians.
The same month also saw the adoption of Security Council resolution 1975 on Cote d'Ivoire, in response to the violent fallout from the political crisis in the West African country. The UK strongly supported the UN mission (UNOCI)'s robust posture and approach in implementing its mandate to prevent the use of heavy weapons and to protect civilians.
Welcoming the publication of the report, FCO Parliamentary Under-Secretary of State Henry Bellingham MP said:
"I welcome this important report on the work the Government is doing to protect civilians in conflict. This report illustrates the wide variety of work that the UK is undertaking to help protect civilians caught up in conflict around the globe. We will continue to make efforts to raise awareness of the importance of civilian protection in global conflict zones, and to promote the implementation of the Protection of Civilians in the work of the wider UN."
The Protection of Civilians encompasses all activities aimed at ensuring full respect for the rights of the individual, in accordance with international humanitarian law, human rights law, refugee law and criminal law.
The strategy sets out UK activity in four policy areas:
Political engagement: strengthening international human rights monitoring and political action on protection;
Protection by peace support operations: improving protection language in peace support operation mandates, and pushing for better execution of protection tasks on the ground;
Humanitarian action: helping strengthen the work of humanitarian agencies, and improving humanitarian access;
State capacity: strengthening security and justice services, and improving the international community's response to these issues.
The UK's Protection of Civilians strategy was developed jointly by the Foreign and Commonwealth Office, the Ministry of Defence and the Department for International Development, following consultation with a range of NGO stakeholders. It demonstrates the UK's commitment to furthering the civilian protection agenda, and is used as a basis for carrying work forward both in London and across our global network. The strategy text is currently subject to an ongoing process of review and revision, taking into account new Government work including the Strategic Defence and Security Review and the Building Stability Overseas Strategy.
Published 7 December 2011