Government publishes report on progress in Afghanistan
Foreign Secretary William Hague has updated Parliament on progress in Afghanistan over the month of September.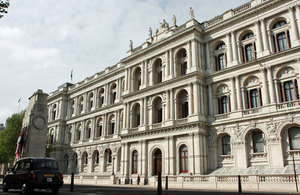 "I wish to inform the House that the Foreign and Commonwealth Office, together with the Ministry of Defence and the Department for International Development, is today publishing the tenth progress report on developments in Afghanistan.
"Former President Rabbani's death at the hands of a suicide bomber on 20 September has drawn world-wide condemnation. It is too early to draw definitive conclusions on the long-term effect his death will have on the peace process, but it may prove significant. Much will depend on his successor as Chair of the High Peace Council and the continuing efforts of the Afghan Government to achieve national unity and a political solution to Afghanistan's problems.
"On 13 September, as part of their campaign to undermine the peace process, insurgents attacked the US Embassy, ISAF Headquarters and an Afghan National Security Forces (ANSF) base in Kabul. The attacks were not successful and neither the US Embassy nor ISAF HQ perimeters were breached. Eleven civilians were tragically killed in the attacks. However the ANSF led an effective response: they successfully neutralised the threat and demonstrated a high degree of operational competence.
"With UK support, the Government of Afghanistan continues to improve their delivery of basic services. The new National Priority Programme for Local Governance will help local government institutions deliver improved basic services to communities, while a UK-funded Afghan Government programme is bringing opportunities for licit livelihoods to more people. Both will help to reinforce successful security transition. The IMF and the Government of Afghanistan continue to work towards agreeing a new programme of support, and we are hopeful agreement will be reached this Autumn, allowing the UK and the international community to resume routine funding to the Afghan Government.
"The insurgency is resilient and, as demonstrated by the recent high-profile attacks in Kabul, remains a threat. However, such incidents rarely achieve their tactical effect and are designed to create a perception of increased violence and instability that it is not reflective of the progress being made in much of the country. We should not allow these attacks to distort the many examples of significant security improvements or overshadow continued progress to governance and development objectives. There remain many challenges ahead but there is also much encouraging progress."
Published 20 October 2011