Government publishes Afghanistan progress report May 2011
Foreign Secretary William Hague has updated Parliament on progress in Afghanistan during May.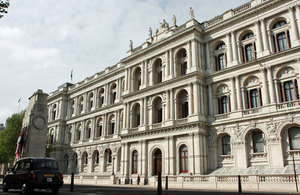 In a written statement to Parliament the Foreign Secretary said:The report focuses on key developments during the month of May.
"Al Qaeda founder and leader, Usama Bin Laden, was killed by US forces in Pakistan on 2 May. His death, while significant, does not change our strategy in Afghanistan and we remain committed to our military, diplomatic and development work.
On 17 May the Prime Minister confirmed to the House of Commons Liaison Committee that, by February 2012, approximately 400 UK military personnel will have withdrawn from Afghanistan, following the conclusion of specific planned tasks. Over 200 of these troops have already been withdrawn. He emphasised that the UK remains the second largest troop contributor, operating in the hardest part of the country.
Good progress in Afghan Uniformed Police training and development continued to be made. Nevertheless, leadership training is challenging, owing to inconsistent support from Afghan district level leadership. The increasing number of Afghans wishing to serve in the Afghan National Police, as officers, has enabled the Ministry of Interior to apply higher selection standards.
The Taliban's fighting season resumed in May. As expected, the number of violent incidents increased, as the insurgency attempted to regain lost momentum. Overall, levels of violence, although higher than those seen in April, are broadly in line with what we would expect for this time of year."
Published 22 June 2011