Government publishes Afghanistan progress report covering July & August
Foreign Secretary William Hague has updated Parliament on progress in Afghanistan during July and August 2012.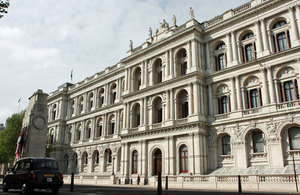 In a written statement to Parliament the Foreign Secretary said:
"On 8 July at the Tokyo Conference the international community, including the UK, agreed to help the Government of Afghanistan meet its country's development needs for the years up to and after security transition in 2014. Specific pledges were made to 2017, with strong commitments from the international community to provide financial assistance to Afghanistan through the 'Transformation Decade' to the end of 2024. This support is vital to ensure that the Government can provide continued stability and prospects for its people when international military troops withdraw at the end of 2014. Our support will depend on the Government taking forward key governance and economic reforms, including on protecting the rights of women and girls, outlined in the Tokyo Mutual Accountability Framework (TMAF). At the request of the Government of Afghanistan, the UK agreed to co-chair the first Ministerial review of the TMAF benchmarks in 2014.
The insurgency remains a tangible threat in Afghanistan as the separate attacks in Nimruz and Kunduz provinces on 14 August demonstrated. However, as transition progresses and the ANSF increasingly move to the fore on operations, we are seeing more evidence that violent incidents are being evermore displaced away from the protected communities where the majority of Afghans live. While there are still areas where the insurgent has relative freedom of movement they are finding it hard to concentrate their forces as they would wish. It is likely that they will continue to rely on IEDs, high-profile attacks and assassination attempts as means of conducting their campaign and maintaining relevance.
Insider attacks (incidents where members of the ANSF attack their ISAF partners ) remain a serious concern. We are working with ISAF and our Afghan partners to reduce the potential for such incidents, but while being adamant that they will not derail our strategy for transition.
The UK continued to support the development of the local economy in Helmand province. UK Aid has delivered technical and vocational education and training to more than 7,300 Helmandis, giving them the skills to get jobs and start businesses in the emerging private sector. Our assistance is also helping local government officials in Helmand take control of vital infrastructure, including roads, canals and irrigation systems."
Published 18 September 2012