Government publishes Afghanistan progress report
Foreign Secretary William Hague has updated Parliament on progress in Afghanistan during November 2011.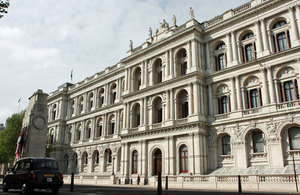 In a written statement to Parliament the Foreign Secretary said:
"The second tranche of areas to enter the security transition process was announced on 27 November. This demonstrates continuing progress in the development of the Afghan National Security Forces (ANSF). The announcement, which includes Nad-e-Ali in Helmand, means that Afghan Forces will soon begin to take lead responsibility for the security of approximately half the country's population. While the security situation throughout Afghanistan remains challenging, progress is being made. The ANSF have demonstrated that they are able to lead on security effectively and competently in the areas that started the transition process earlier this year. They also demonstrated their growing capability at November's Traditional Loya Jirga where, despite insurgent intent, there were no security breaches.
The IMF Board has approved a new three-year programme of support for Afghanistan. This decision shows that the Afghan Government has reassured international donors and ordinary Afghans alike that they are serious about providing a safe economic and business environment. Now that a new IMF programme is in place, donors including the UK are able to resume support to the Afghanistan Reconstruction Trust Fund, which helps the Afghan Government deliver vital basic services and key reforms for the Afghan people. In the meantime, with UK support the Afghan Government continues to make good progress in raising its own funds: revenue collection reached record levels last quarter.
The International Conference on Afghanistan in Bonn on 5 December agreed a framework for the international community's long-term engagement with Afghanistan to 2014 and beyond and agreed to produce a clear plan for funding the ANSF in advance of the Chicago Conference to be held in May 2012.
At the Traditional Loya Jirga, President Karzai reiterated his commitment to stand down as President in 2014, in accordance with the Constitution.
Published 19 December 2011