News story
Government outlines trafficking vision
A renewed offensive against organised crime gangs behind the human trafficking trade has been unveiled.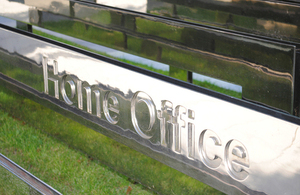 The new strategy, to be published early next year, will place greater focus on intercepting traffickers before they reach the UK.
Treated as commodities
Immigration minister Damian Green said: 'Human trafficking is a brutal form of organised crime where people are treated as commodities and exploited for criminal gain.
'Combating human trafficking is a key priority for the Government, which is committed to tackling organised crime groups who profit from this human misery, and to protecting victims.
'I am confident that once fully developed the new strategy will help us better intercept the perpetrators of this appalling trade.'
Better international co-operation
The main elements of the strategy will include:
strengthening international co-operation with countries where criminals are based and bringing together enforcement efforts
building on the success of child safeguarding teams at UK ports
using a new National Crime Agency and its border police to provide increased deterrence and vigilance at the border
working with front-line professionals to improve help for victims of trafficking
Trafficking is carried out largely by organised crime groups working across international borders. The UK is a prime destination, with victims most commonly coming from China, south-east Asia, west Africa and eastern Europe.
World leader
The UK is already a world leader in the fight against trafficking. Last year more than 700 potential victims were referred to our specialist care services by police, the UK Border Agency, the Serious Organised Crime Agency and charities.
Earlier this week the Metropolitan police raided properties in east London to protect dozens of victims of a Romanian-based gang of child traffickers.
Published 14 October 2010