Government looks to join Europe-wide action on trafficking
A strong indication that the government will apply to opt in to a Europe-wide effort to help tackle human trafficking was signalled today.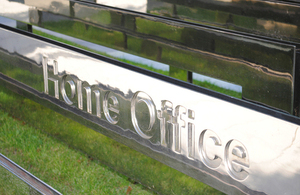 The Home Secretary has written to parliamentary scrutiny committees seeking their views on the move which would extend powers to prosecute UK nationals who commit offences anywhere in the world.
This could happen even where there is no connection to the UK, helping to ensure that traffickers do not escape justice.
Read the written statement to parliament here.
Good practice
The UK already carries out most measures required by the directive.
But opting in will ensure Britain remains a world leader in this area and enshrine in law action that happens routinely.
Government priority
Home Office minister Damian Green said: 'Tackling human trafficking is a priority for the government. The UK has an excellent record on fighting human trafficking and the organised criminals who profit from misery.
 
'The government is determined to build on that. The UK Human Trafficking Centre already works with law enforcement agencies providing valuable tactical advice, intelligence analysis and expertise in anti-trafficking operations 24/7. 
 
'Opting in would send a powerful message to traffickers that Britain is not a soft touch and that we remain world leaders in fighting this terrible crime.'
New strategy
Today's move follows a review of the finalised text of the directive.
In June the government said it would not opt in until it was sure the directive would benefit the UK.
A human trafficking strategy will be published in the spring and will focus on:
strengthening work with countries where criminal gangs are based
improving the co-ordination of policing efforts in the UK to tackle trafficking
using the new National Crime Agency with its border policing responsibilities to improve security and provide a stronger deterrent at the border
working with professionals to improve help for victims of trafficking
Published 22 March 2011