Government launches single government website prototype
An early prototype of a potential single government web domain, aimed at making public services easier to use, has been launched.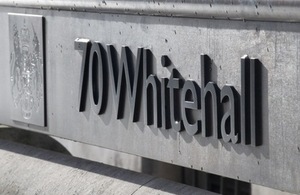 The coalition government has today launched an early prototype of a potential single government web domain, aimed at making public services easier to use.
The prototype single domain, named alphagov, was recommended by Martha Lane Fox in her review of government digital services published last year.
Prototypes are a normal way that large organisations, such as the BBC, test their web services, but this has never before been done in government.
Alphagov is available on line for comment for 2 months and aims to provide a single place for all central government department information.
In the long run it will include a whole range of government services such as tax return and car tax applications. The prototype currently just contains answers to the top 100 most frequently asked questions in government such as what to do if you lose your passport.
By moving departmental website information into one place, the government anticipates that it would save over 50% of the £130 million it spends on internet publishing each year.
Cabinet Office Minister Francis Maude has welcomed the prototype as an opportunity for the public to tell us what they think.
Francis Maude said:
Interacting with the government online is, with a few notable exceptions, lengthy, complicated and generally painful We inherited hundreds of websites all providing separate government services, which cost a lot and make it incredibly difficult to find what you are looking for. We are trying to change this. We are already dramatically cutting the number of government websites to save million pounds per year and make government services easier to access and use.  We are now taking this a step further and launching the first prototype of a single government website. This is not the finished article, but an early draft, an opportunity for the public to have a look and tell us what they think.
Writing on the alphagov blog, Deputy Director for the Single Government Website, Tom Loosemore, said:
If people who are not yet online can be tempted into doing just one of their (typical) four or five monthly government transactions online, then that would save the government - and hence taxpayers - about £1bn each year. That's a big number. But, equally important, a gov.uk which is so good, so simple, so hassle-free that it actually encourages people who are not online to get online will save them hundreds of pounds per year. It needs to be so good people actively prefer it to offline alternatives, so much so that they recommend it to friends and family who are not yet online.
Read more: Alpha.gov.uk website
Published 11 May 2011