Government launches Major Projects Authority
Francis Maude has today announced tough controls to improve the way major government projects are delivered.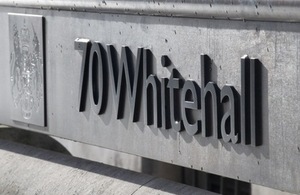 31 March 2011
Minister for the Cabinet Office Francis Maude has today announced tough controls for major government projects, to improve performance in delivering on time and in budget.
From today all major projects will be scrutinised by the new Major Projects Authority (MPA).
The MPA is a partnership between the Cabinet Office and HM Treasury. It has an enforceable mandate from the Prime Minister to oversee and direct the effective management of all large-scale projects that are funded and delivered by central government. The MPA will scrutinise projects, ensure accountability and inform the Treasury's decisions on whether to approve projects.
Welcoming the announcement, Francis Maude said:
Previously government projects have had a poor delivery record. There was no cross-governmental understanding of the size and cost of the government's Major Project portfolio, and projects often began with no agreed budget, no business case and unrealistic delivery timetables. This government will not allow that costly failure to continue. The MPA will work in collaboration with central government departments to help us get firmer control of our major projects both at an individual and portfolio level. It will look at projects from High Speed Two to the Rural Payments Agency's ICT system.
"Today's announcement builds on the work we have already done to put an end to wasteful and unnecessary projects. Last summer we launched the first comprehensive review of its kind of government's Major Projects. That initial review found common and unacceptable failings in projects. We believe the Major Projects Authority will help further drive substantial improvement in the success rate of all major projects across government.
Chief Secretary to the Treasury, Danny Alexander, said:
It is essential that we bring the public finances back under control. Unless the deficit is tackled, there won't be the economic confidence to support jobs, investment or growth.

To do this we need to improve the way the Treasury controls public spending. Government's largest projects must receive maximum scrutiny, so that we can avoid the huge cost overruns seen in the past. Establishing the Major Projects Authority marks a very important step towards achieving this aim. By bringing together financial, commercial and project management expertise, I believe it will help us deliver successful projects on time and on budget.
The Major Projects Authority (MPA) will ensure there is a more systematic approach by departments to managing their major projects, including assessing viability before a project is initiated and undergoing regular, planned scrutiny to keep it on track.
The MPA will:
compile a government portfolio of major projects and report publicly on them once a year
agree the plan for every project's assurance and approval requirements at its inception
undertake assurance at key stages in projects' lifecycle to assess whether they will deliver on time, within budget and to the required level of quality
intervene directly, where appropriate, in any failing major projects
work directly with departments to build capability in projects and programme management
The Major Projects Review, which took place between June and August 2010, considered 204 projects of which 64 were looked at closely and 31 subjected to deep investigation. As a consequence of the Review recommendations were made to terminate or re-scope a number of contracts and projects to ensure value for money or to improve the confidence of successful delivery.
One of the projects reviewed was UK Border Agency (UKBA) eBorders. In light of the review findings and following an announcement by the Secretary of State Theresa May on 22 July, the Home Office served notice terminating the Raytheon Systems Limited (eBorders) contract with immediate effect.
Notes to editors
A major project is a central government funded project or programme that requires HM Treasury approval.
The first annual report on government major projects will be published by December 2011.
Read Major Projects Authority reference documents including overview, mandate, FAQs and governance.
Published 31 March 2011