Government launches its first ever national bowel cancer campaign
The Government's first ever national cancer campaign to raise awareness of the signs and symptoms of bowel cancer is launched today.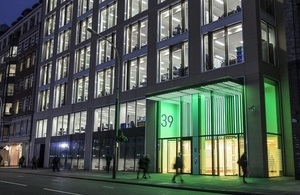 Public awareness of the symptoms of bowel cancer is low. But spotting the signs early and getting medical advice could save people's lives.
Featuring real GPs, the 'Be Clear on Cancer' bowel cancer campaign encourages people who have had blood in their poo or loose poo for more than 3 weeks to see their doctor.
The new adverts aim to make people aware of the symptoms of bowel cancer and make it easier for them to discuss this with their GP.
Care Services Minister Paul Burstow said:
No one likes talking about their poo - it's embarrassing. But bowel cancer is the second biggest cancer killer so we need to get over the embarrassment and talk to someone about it.
The "Be Clear on Cancer" campaign uses simple messages to make people aware of the key symptoms of bowel cancer and to give them the confidence to talk to their GP if they notice the symptoms.
No matter how embarrassing it is, talking to your GP can help save your life.
The 'Be Clear on Cancer' campaign
The Be Clear on Cancer campaign adverts will appear on TV, radio, online and in newspapers in England for 9 weeks from today until the end of March.
The campaign was piloted in the South West and East of England in January 2011.  In those areas, GPs saw the number of people over the age of 50 presenting with the relevant symptoms increase by 48% - about one extra patient per practice per week.
Part of the National Awareness and Early Diagnosis Initiative run in partnership with Cancer Research UK, the campaign aims to improve England's cancer survival rates.
Campaign materials
Leaflets and posters can be ordered free from the DH Orderline or by calling 0300 123 1002.
More information about all Department of Health campaigns can be found on the online Campaign Resource Centre. It is the one-stop shop for all Department of Health public health campaigns and provides all the public health information and resources needed for anyone who works directly with the public.
Key facts about bowel cancer
Bowel cancer is the second biggest cancer killer.
It affects 33,000 people every year in England with the majority of cases occurring in people over the age of 55.
There are 13,000 deaths a year but it can be less deadly if spotted and diagnosed early.
More than 90% of people diagnosed with bowel cancer at an early stage survive for at least 5 years compared with only 6% of those diagnosed at a late stage.
If England's bowel cancer survival rates matched the best in Europe an additional 1,700 lives would be saved every year.
Around 14,600 cases were diagnosed in women and 18,000 in men in England in 2008.
Two thirds of bowel cancer develop in the colon, while the remaining third developing in the rectum
Bowel cancer is also referred to as colorectal cancer. It includes both cancer of the colon and cancer of the rectum.
Other bowel cancer stats are available on the CRUK website.
The symptoms of bowel cancer
The main symptoms are blood in poo for 3 weeks or looser poo for 3 weeks or more.
Other symptoms include:
a pain or lump in your tummy
feeling more tired than usual for some time
unexplained weight loss
The Government's priorities
The Government's priorities for cancer as set out in Improving Outcomes: A Strategy for Cancer include the ambition to save an additional 5,000 lives per year by 2014/2015.
The Government's strategy is backed with more than £750m over 4 years to implement a range of actions that will improve cancer outcomes. £450m of this is to focus on improving early diagnosis including the extra costs for diagnostic tests and treatment. More on bowel cancer and its symptoms from NHS Choices
Published 30 January 2012