Press release
Government launches consultation on stop and search Code of Practice
The NIO is seeking views on paragraph 8.78 of the Justice and Security Act (Northern Ireland) 2007 Code of Practice.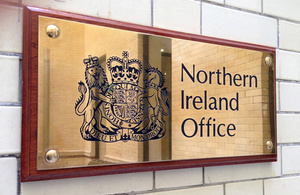 The Northern Ireland Office (NIO) today launched a consultation in response to a Judicial Review decision regarding the Code of Practice for the exercise of stop and search powers under the Justice and Security (Northern Ireland) Act 2007.
A draft Code of Practice detailing the core principles of proportionality and necessity in using stop and search powers was publicly consulted on and introduced in May 2013. However, the final published version of the Code contained some minor amendments from the draft consulted on.
One of those changes was in regard to paragraph 8.78, which details how someone stopped and searched can obtain a contemporaneous record of the search.
In May this year, Mr Justice Treacy found that the Government's failure to re-consult on this amendment was unlawful. Today's consultation seeks to remedy that judgement.
The Secretary of State, Rt Hon Theresa Villiers MP said:
The Justice and Security (Northern Ireland) Act 2007 provides the PSNI with important powers to help protect the public. The police take very seriously their obligation to use these powers in a legal, fair and reasonable way.
The original version of paragraph 8.78 was drafted on the basis that police officers would usually carry portable printers to provide electronic records of stop and search exercises. However, after the consultation ended my officials became aware that the PSNI does not routinely have access to such equipment. As a consequence the paragraph was rewritten to say that individuals stopped and searched must be told how they can obtain a record of their search.
The NIO did not publically consult on this change as it wasn't considered to be fundamental. This new consultation is intended to address Justice Treacy's judgement by seeking the public's views on the version of paragraph 8.78 that is currently in the Code of Practice.
The will runs for 6 weeks, ending on 22 December 2014.
Published 11 November 2014