Government is tackling homelessness to stop the revolving door of reoffending
The Government has today outlined plans to stop the revolving door that brings ex-offenders back into prison, and instead help them into stable…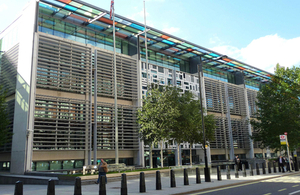 The Government has today outlined plans to stop the revolving door that brings ex-offenders back into prison, and instead help them into stable new homes and new lives.
A third of people sleeping rough in London last year had spent some time in prison - with some even claiming to have re-offended in order to get back into prison and get a roof over their heads.
So Housing Minister Grant Shapps and Prisons Minister Crispin Blunt today confirmed that they will work with voluntary organisations including Crisis to offer a new scheme, in which ex-offenders and single homeless people will be given help to find and maintain a new home in the private rented sector.
Mr Blunt also said his officials will work with councils to improve access to housing advice in prisons. With a fifth of prisoners reporting on release that they have nowhere to stay, offering this kind of service could be key to stopping the revolving door which brings ex-offenders back into prison because they have nowhere else to go.
Plans could also include helping prisoners to set aside a proportion of their earnings to use for a deposit on a property when they are released.
Two thirds of ex-prisoners re-offend within two years of release. Getting ex-prisoners into stable homes could reduce re-offending rates by as much as a fifth.
Housing Minister Grant Shapps said:
People can become homeless for a whole host of complex reasons - whether alcohol, drugs, losing a job or the breakdown of a relationship. But when a third of all rough sleepers have spent time in prison, this is one particular reason that needs our urgent attention.

No-one should be left in the position where they re-offend just to get a roof over their heads. That's why our new scheme to help homeless people into stable, private rented accommodation will also be on hand to help ex-prisoners.

Our new ministerial working group on homelessness, bringing eight ministers together from across Whitehall, means we as a Government are tackling the issues that affect homeless people in a coordinated way, and means we are able to come up with imaginative and innovative solutions.
Twitter
Keep up to date with the Department by following us on Twitter (external link).
Media enquiries
Visit our newsroom contacts page for media enquiry contact details.
Published 19 October 2010