Press release
Government invites suppliers to support digital by default agenda
Suppliers of all sizes invited to support 'digital by default' through a new procurement framework available to the wider public sector.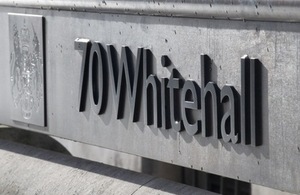 The government has invited suppliers to help deliver its digital agenda through a new procurement framework. As part of an ambition to move away from legacy IT and big contracts with a few large systems integrators, this new framework will make it easier for smaller companies to bid for business.
The successful companies will offer innovative digital solutions for public services shaped by user need.
Today's publication of an OJEU (Official Journal of the European Union) notice is the signal for innovative firms of all sizes to apply to join a framework of suppliers that can bid for government contracts to provide digital project build services across the UK. This framework represents a new approach for government in terms of speed, simplicity, and clarity.
The Digital Services Framework has been put together by Government Procurement Service (GPS) and the Government Digital Service (GDS) - working closely with departments. It will be offered as a managed service to central government departments, with all services under the framework procured centrally through GPS as the contracting authority.
The procurement is the first to be announced since the review of technology frameworks at the end of 2012. It will give government access to a pool of agile suppliers needed to help departments build and run services that meet the Digital by Default Service Standard. GDS will work with departments to ensure alignment with the standard and the framework will also be available for the wider public sector to use.
Cabinet Office Minister Francis Maude said:
To deliver the efficient and responsive public services that users demand, we must ensure that government has access to the most innovative and cost-effective digital solutions. Often, these services will be provided by smaller firms that in the past have been locked out of public sector business by complex and expensive pre-qualification requirements. The Digital Services Framework is an example of government procurement that is faster, simpler and easier to do business with.

We want to have a highly competitive market, access to innovation, and to drive growth by working with businesses of all sizes. That's how we will deliver world-leading digital public services and build a stronger economy.
The framework contrasts with and complements the G-Cloud frameworks, as it will provide bespoke digital solution development rather than commoditised IT services.
In line with the commitment to diversify the supply chain for public sector business, 83% of the 832 suppliers on the G-Cloud frameworks are SMEs (small or medium enterprises). Like G-Cloud, the Digital Services framework agreement will be refreshed every 6 to 12 months to ensure access to the latest innovations and a widening range of suppliers.
The framework will be open to applications until 7 August 2013.
Published 9 July 2013