News story
Government investment in local growth to continue
The Chancellor has announced a package of measures in his Autumn Statement that will help the department continue to boost local growth.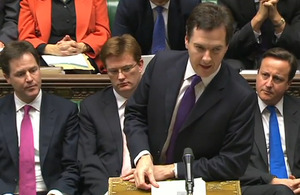 The measures will enable the country to build new homes, deliver key infrastructure and support vital jobs.
A new £474 million Local Infrastructure Fund that will support investment in key local projects will open up new development, including locally supported large housing sites and bring surplus public land back into use, delivering much needed new homes, businesses, infrastructure and local transport schemes. Plus a further £100 million to bring forward public sector sites for development.
Measures announced in the Autumn Statement and the September Housing and Planning package will support delivery of up to 120,000 homes. There will also be cash injections for local areas through a £1.5 billion borrowing arrangement for local enterprise partnerships and more money for the Regional Growth Fund. While small firms will continue to receive larger business rate tax breaks.
New investment in local infrastructure
Around £225 million will be used to accelerate delivery of locally supported large housing sites, supporting around 50,000 homes. There are many locally supported large housing schemes in the development pipeline that can provide real benefits to local communities that are struggling to move forward because of the current economic circumstances. This fund will help unlock those stalled sites so they become shovel ready.
Around £190 million of the funding will be used to enable the quicker disposal of surplus public sector land for new homes. Alongside this, the Government will provide £100 million to bring forward public sector sites for development. Government has identified enough land for over 106,000 homes and has already sold around 33,000. The Home and Communities Agency will become a single 'shop window' for land disposal so much needed homes can be built on these sites sooner.
Around £60 million of this will be made available to support infrastructure in a limited number of enterprise zones. Building work has already begun on 20 zones and the majority have put in place simplified planning arrangements and secured private sector investment. The fund will help accelerate the infrastructure preparations so that new businesses can open and more new jobs are created as quickly as possible.
Following on from Lord Heseltine's report which recommended devolution of more economic powers, local enterprise partnerships will be able to borrow up to £1.5 billion at cheap rates for nominated infrastructure projects. This puts partnerships and councils in much greater control over the levers of growth. They are already putting the Growing Places Fund to good use supporting 169 projects in the first 4 months.
The government will also pump an additional £350 million into the Regional Growth Fund, including a new £210 million to support jobs and growth across England - bringing the total fund to £2.6 billion. In addition, a new £170 million Department for Transport local transport pinch point fund, to unlock new development, homes and jobs.
Extra support for business continues
Despite the need to tackle the deficit there continues to be no real terms increases in business rates and inflation has fallen easing pressure further. The government will provide a further one year extension of the temporary doubling of small business rate relief to an estimated half a million business properties. In addition councils can now offer extra discounts to support local business and the 24 enterprise zones offer special 100% rate discounts to new firms that create local jobs. Postponing a revaluation will avoid local firms and local shops facing unexpected hikes in their business-rates bills over the next 5 years. Early estimates suggest that 800,000 premises faced a real-terms rise in their bill.
The chancellor also announced a new temporary measure to extend the time period for the exemption from empty property rates, for newly built property for 18 months which will support construction. This will help promote regeneration and support high street renewal.
Efficiency savings to continue
In keeping with the government's fiscal plans the new investment in the economy will, in part, be funded by some government departments' resource budgets being reduced. The Department for Communites and Local Government has already become a smaller, streamlined, more flexible organisation. Its administration spending will reduce in real terms by 44% having reduced headcount by 37%. Arms length bodies have been reduced from 26 to 13 and the government office regions have been closed.
Local government has been exempt from the reduction in 2013-2014 in recognition that local authorities are holding down budgets by comparable amounts by keeping council tax low in that year. This important concession will allow local authorities time in 2013-2014 to continue to protect frontline services by delivering reforms that will drive through further savings through transforming service delivery as demonstrated by the whole-place community budget pilots. Full details of local government funding for next year will be announced in the provisional Local Government Finance Settlement due later this month.
Published 6 December 2012