Press release
Government introduces largest ever increase to apprentices' wages
National Minimum Wage goes up by 57 pence to £3.30 for apprentices and rises by 20 pence to £6.70 per hour for adult workers.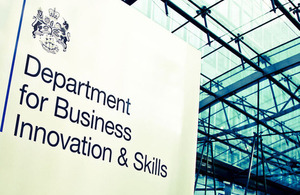 over 1 million working people will receive a pay rise today when the National Minimum Wage goes up
apprentices get biggest ever rise
over £1,000 increase in yearly pay packet for full time apprentices
From Thursday 1 October 2015, the apprentice rate of the National Minimum Wage (NMW) goes up by 57 pence to £3.30 and the NMW rate for adult workers will rise by 20 pence from £6.50 to £6.70 per hour.
The boost for apprentices is the largest ever and means that those working 40 hours a week will now have £1,185 more in their pay packet over the year.
By implementing a rate higher than the Low Pay Commission's (LPC) recommendation apprenticeships will deliver a wage that is comparable to other choices for work.
The 3% increase in the adult rate is the biggest real increase since 2006 and moves the NMW closer to the average wage than ever before. The new rate means that a full time employee, working 40 hours, will see the largest cash increase in their annual pay packets since 2008.
Business Secretary Sajid Javid said:
As a one nation government we are making sure that every part of Britain benefits from our growing economy and today more than 1.4 million of Britain's lowest-paid workers will be getting a well-deserved pay rise.

The increase for apprentices is the largest in history making sure that apprenticeships remain an attractive option for young people. While the National Minimum Wage will see the largest real-terms increase since 2007.
From 1 October 2015:
the adult rate will increase by 20 pence to £6.70 per hour
the rate for 18 to 20 year olds will increase by 17 pence to £5.30 per hour
the rate for 16 to 17 year olds will increase by 8 pence to £3.87 per hour
the apprentice rate will increase by 57 pence to £3.30 per hour
the accommodation offset increases from the current £5.08 to £5.35
Notes to editors:
The Apprentice Rate applies to all apprentices in year 1 of an apprenticeship, and 16 to 18 year old apprentices in any year of an apprenticeship. The LPC recommended that the new rate be set at £2.80 but the government has implemented a higher rate of £3.30.
From April 2016, the government will introduce a new mandatory National Living Wage (NLW) for workers aged 25 years and above, initially set at £7.20.
Published 1 October 2015