Press release
Government gives £25m boost to global wildlife initiative
Darwin Initiative to receive a boost of at least £25m in funding over the next 4 years.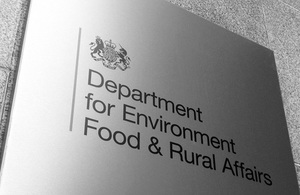 The Government will give £25m to wildlife conservation work around the world through the Darwin Initiative, Environment Secretary Caroline Spelman announced today.
Defra's Darwin Initiative has already spent more than £80m to help protect biodiversity in 156 countries since its inception in 1992. Over the next four years the scheme will receive a boost of at least £25m in funding.
Caroline Spelman said:
"I'm proud of our excellent work under the Darwin Initiative - its project leaders have worked wonders in helping to prevent damage to vulnerable wildlife and Earth's ecosystems and we are committed to strengthening our global partnerships in the economic and scientific response to protecting our natural environment.
"Some of the planet's richest wildlife is found in developing countries, and over the next four years we'll make more money and expertise available than ever before to ensure economic development goes hand in hand with protecting value natural habitats and adapting to the challenges of climate change."
The Darwin Initiative has already supported a wide range of important work such as a scheme to ensure the survival of critically endangered "mountain chicken" frogs on the Caribbean island of Montserrat.
Funding has also been used to help protect river dolphins in Brazil, prevent the extinction of vultures in India and provide training in The Gambia to help monitor fragile ecosystems.
The latest round of bids for Darwin Initiative funding starts today. For more information go to http://darwin.defra.gov.uk.
Notes
Since its inception at the Rio Earth Summit in 1992 the Darwin Initiative has invested £80,426,158 in 728 projects across 156 countries.
Most Darwin projects are based in Asia, Africa and South America in regions boasting particularly rich biodiversity. A smaller number of projects are located in Central America, the Caribbean, Eastern Europe, the Middle East and the Pacific.
The Darwin Initiative aims to help countries meet their objectives under one or more of the three major biodiversity Conventions: the Convention on Biological Diversity (CBD); the Convention on International Trade in Endangered Species of Wild Flora and Fauna (CITES); and the Convention on the Conservation of Migratory Species of Wild Animals (CMS), through the funding of collaborative projects which draw on UK biodiversity expertise.
Darwin projects usually address the following areas:
institutional capacity building
training
research
work to implement the Biodiversity Convention
environmental education or awareness
The Darwin Initiative draws on expertise relevant to biodiversity from within the United Kingdom, to work with local partners in developing countries, to achieve the conservation of biological diversity, the sustainable use of its components and the fair and equitable sharing of benefits arising out of the utilisation of genetic resources.
Published 8 April 2011