News story
Government explores blockchain technology to improve public services
The government has outlined ways the state could use blockchain technology to track payments and provide public services.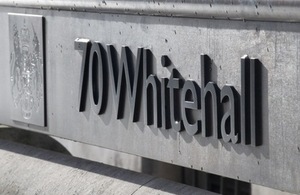 Minister for the Cabinet Office Matthew Hancock has announced that government will begin looking at blockchain technology as a practical way to improve the efficiency of taxpayer money distributed as grants to agencies and partners for research and innovation.
Speaking at a nationwide blockchain networking event at Digital Catapult in London, Mr Hancock said the Cabinet Office is looking at blockchain as a way to monitor and control what can sometimes be an incredibly complex process.
Today's event, led by the Cabinet Office's Government Digital Service, Imperial College, and the Department for Culture, Media and Sport, focussed on bringing together government policy officials with academics and business to see what the opportunities are for using blockchain and how the government can help industries use it.
After his keynote address to the conference, Matthew Hancock, Minister for the Cabinet Office and Paymaster General, said:
We have worked very hard in recent years to transform government, to bring it up to date with the internet age. We've made great strides, but there's still a very long way to go.

Government cannot bury its head in the sand and ignore new technologies as they emerge.

If a government doesn't keep up with new and innovative technology, it falls behind on the ability to provide services for its citizens. We want to stay at the forefront. I believe as technology becomes part of the fabric of the nation, it must become part of the fabric of government.
Technology such as blockchain offers a number of opportunities to explore within government and was used as part of the bitcoin currency. Government is keen to work with cutting-edge private sector fintech companies and academics to see where it can support the sector.
For example, the government has already committed £10m to the Alan Turing Institute to investigate digital currencies and distributed ledger technologies and are looking for case studies showing blockchains can be used in government.
Published 28 April 2016