Government ends goldplating of European regulations
Government ends 'gold-plating' of European regulations to help British businesses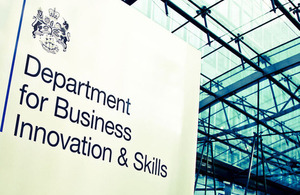 British businesses will no longer be at a disadvantage compared to their European competitors, with an end to the 'gold-plating' of European legislation when it is made into UK law.
The key to the new measures, introduced by Business Secretary Vince Cable, will be the principle of copying out the text of European directives directly into UK law.
This direct 'copy out' principle will mean that the way European law is interpreted does not unfairly restrict British companies.The key elements of the principles are:
Work on the implementation of an EU directive should start immediately after agreement is reached in Brussels. By starting implementation work early, businesses will have more chance to influence the approach, ensuring greater certainty and early warning about its impact.
Early transposition of EU regulations will be avoided except where there are compelling reasons to do so. British businesses will then not be at a disadvantage to their European competitors.
European directives will normally be directly copied into UK legislation, except where it would adversely affect UK interests, such as putting UK businesses at a competitive disadvantage.
Ministers will conduct a review of European legislation every five years. The review process would involve a consultation with businesses and provide a unique opportunity to improve how European legislation is implemented, to ensure that it poses as small a burden as possible on business.
Business Secretary Vince Cable said:
"I want British business to be a powerhouse for economic growth and among the most competitive in the world. This move will bring an end to the charge of "gold-plating". The way we implement our EU obligations must foster, not hinder, UK growth by helping British businesses compete with their European neighbours.
"The new principles are a first step towards working with British business and Europe to make sure that we introduce EU rules in a way that will not harm the UK economy. By cutting the red-tape that can reduce competitiveness and making sure that businesses are involved in the process both before, and after through five-yearly reviews, we can get the best deal possible for British companies."
Links
Published 15 December 2010