Press release
Government drive to help cut salt consumption by a quarter
Majority of people do not consider salt when buying food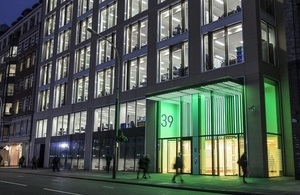 A major drive to help reduce the amount of salt we eat by a quarter, including by setting targets with food companies, has been launched today by Public Health Minister Anna Soubry.
Research figures show that more than half the public (53 per cent) rarely or never consider the amount of salt when buying food, despite more than four in five people (86 per cent) knowing too much salt is bad for their health.
As part of the Responsibility Deal, today's new Salt Strategy outlines how the Department of Health will help people reduce their daily intake from an average of 8.1g a day towards the 6g a day goal. It will do this by:
revising the 2012 salt targets for industry by the end of the year to encourage companies to reformulate recipes;

pushing the catering and take away sector to do more – by setting new maximum targets for the most popular dishes such as sandwiches and chips;

asking companies to help people choose lower salt options – through promotional and other activities; and

getting more companies across the food industry sign up to salt reduction.
Public Health Minister Anna Soubry said:
Today our typical shopping basket contains much less salt than it did 10 years ago but more needs to be done to help lower these levels even further.
Through the Responsibility Deal, we are working with the food industry to make sure people are given healthier options with less salt in their favourite foods. The voluntary approach is working and we have already seen results in our everyday foods, but to get the greatest impact, we need more companies pledging to reduce salt levels, particularly in the catering and take away sector.
The UK is world-leading in salt reduction but more needs to be done to reach our goal of no more than 6g a day. This is because eating too much salt can have a serious impact on people's health – causing high blood pressure, which could lead to heart disease and stroke. Currently 90 companies have signed up to make salt reduction a priority, and we want to see real action from many more.
Responsibility Deal Food Network chair Dr Susan Jebb said:
It's essential we maintain momentum in our efforts to reduce salt in our diet if we are to prevent the many thousands of premature deaths each year from stroke and heart disease linked to eating too much salt.
Today is the start of the next phase of the salt reduction work. This strategy combines work to develop new targets for reformulation, with action to urge more companies to play their full part and renewed efforts to encourage consumers to do more to reduce the salt we're eating.
Background information
For further press enquiries, please call the Department of Health press office on 0207 210 5301.

The Public Health Responsibility Deal aims to tap into the potential for businesses and other influential organisations to make a significant contribution to improving public health by helping us to create this environment.

Since launching in 2011, the Responsibility Deal has worked with industry to achieve the following:
over 70 per cent of the fast food and takeaway meals sold have calories clearly labelled – almost 9,000 high street outlets with more companies signing up;

all of the major supermarkets and 69 per cent of the retail market have committed to removing artificial trans fats – some 97 companies in all;

over 70 per cent of the retail market and over half of the major high street and contract caterers are committed to further reductions in salt in over 80 categories of foods – such as bread, soups, cereals and pasta sauces;

over 80 per cent of all alcoholic drinks on shelf will have clear labelling on units, NHS guidelines and pregnancy messages by the end of next year – with 92 companies signed up. [Early indications are that over 60 per cent of labels already carry this information].

23 leading food and drink companies, including Coca-cola, Mondelez International (formerly Kraft Foods UK), Nestle, Subway and the major retailers had already signed up to the calorie reduction pledge — making some strong commitments to cut and cap calories, as well as through promotional activity encouraging people to eat healthier foods. The additional signatories bring the total to 31.

34 major alcohol companies have committed to removing a billion units from sale. The initiative, which includes major brands like Echo Falls, First Cape and Heineken will see a greater choice of lower strength alcohol products and smaller measures by 2015.
We now have more than 500 partners across the entire Responsibility Deal with 127 in the Food Network.

Earlier this year, we invested over £2 million in our Change4Life food smart campaign. The campaign empowers people to make healthier food choices. It will also lifts the lid on the 'hidden nasties' (too much salt, sugar and saturated fat) that are in many everyday food and drinks and encourage people to be more mindful of what they are eating.

Methodology note: ComRes interviewed 1,805 English adults online between 31st August and 2nd September 2012. Data were weighted to be demographically representative of all English adults. ComRes is a member of the British Polling Council and abides by its rules. Full data tables can be found on the ComRes website.
Published 13 March 2013