Government doing all it can to assist Britons in Libya
Prime Minister David Cameron has said the Government will do everything it can to evacuate the remaining British nationals stranded in Libya.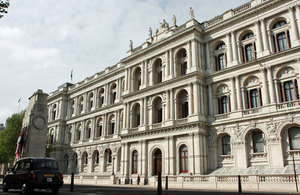 The Prime Minister said Britons should "leave now" and promised more flights if necessary. He said the Government was sending a second Royal Navy ship, HMS York, to the area.
Speaking in Downing Street after National Security Council and COBRA emergency planning committee meetings, the Prime Minister said:
"We will do everything we can today and tomorrow to help those people and planning is under way to do just that.
"In the last 24 hours there have been six flights that have left Libya and that is good, and there will be more on the way if necessary.
"HMS Cumberland has now come out of Benghazi, bringing many, many British citizens out of Benghazi and we have also helped citizens of 25 other countries. I have also asked HMS York to go into the area and help out if necessary.
"But I would say that people do need to leave now and that is the message that I give very strongly to British citizens in Libya.
"For those in the desert, we will do everything we can and we are active on that right now to help get you out."
Mr Cameron also said the violence was "appalling and unacceptable" and that the world would hold the regime to account.
"Britain, through the United Nations, is pressing for asset seizures, for travel bans, for sanctions, for all of the things that we can do to hold those people to account, including investigating for potential crimes against humanity, or war crimes, or crimes against their people.
"People working for this regime should remember that international justice has a long reach and a long memory and they will be held to account for what they do."
Last night Mr Cameron spoke to President Barack Obama to discuss possible multilateral measures against Libya including at the UN Human Rights Council on Monday. They also agreed to work together closely on the continuing evacuation of foreign nationals.
Published 25 February 2011