Press release
Government digital board leads the way with a 50/50 gender split
The government's new digital advisory group includes some of the biggest female names in technology.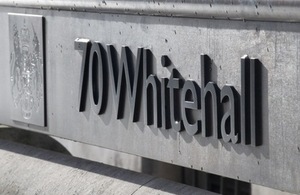 The government is determined that all Civil Service boards are diverse. On International Women's Day we have announced that our new digital advisory board is leading the way with a 50/50 gender split.
The new board brings together some of the world's biggest names in digital to advise on providing world-beating digital public services.
It is made up of UK experts from the retail, digital, data, and technology sectors, who all have experience in creating digital products and services used by millions of people. Fifty percent of the advisors on the board are female and include notable figures such as Baroness Lane Fox, Co-Founder of lastminute.com; Dr Sue Black OBE, Founder and CEO of #techmums; and Vanessa Vallely, Founder of WeAreTheCity.com.
The group will support, advise and challenge the government to provide better services for users and evaluate how emerging digital and technology trends can be applied to public services.
The government is determined to bring the best mix of people and experiences to boards of public bodies and departments. With a 50/50 gender split, this new digital board is outperforming averages in the private sector – with FTSE 100 boards on average containing 26% women.
We are making good progress on diversity in public appointments more generally: 44% of new appointments were women in 2014-2015, which is the highest ever recorded. This means that the government is well on the way to achieving our aspiration that 50% of new public appointees should be women.
Minister for the Cabinet Office and Paymaster General Matt Hancock said:
We want the very best people on the boards of our public bodies and our government departments, irrespective of gender. I'm proud to say that our new digital advisory group is leading the way with an equal gender balance and I'm determined to work closely with these digital experts to discover and build the best public digital services for citizens.
Notes to editors
The board will be chaired by Executive Director of GDS Stephen Foreshew-Cain and its membership includes:
Richard Allan – Director of Policy, Europe at Facebook
Dr Sue Black OBE – Honorary Professor at UCL and Founder and CEO at #techmums
Joanne Hannaford – Global Co-Head of Enterprise Platforms, Goldman Sachs
Hermann Hauser KBE – Co-Founder of Amadeus Capital Partners
Brent Hoberman – Co-Founder and Executive Chairman at Founders Factory Ltd
Saul Klein – CEO and Founder of LoveFilm
Baroness Lane-Fox – Co-Founder of lastminute.com
Brian McBride – Chairman of ASOS and former UK Managing Director of Amazon.co.uk
Herman Narula – CEO and Co-Founder at Improbable
Sir Nigel Shadbolt – Chairman and Founder of The Open Data Institute (ODI)
Monique Shivanandan – Group CIO at Aviva
Wendy Tan White – co-founder and CEO of Moonfruit
Vanessa Vallely – Managing Director and Founder at WeAreTheCity.com
Laura Wade-Gery – Executive Director, Multi-channel, Marks & Spencer
Published 8 March 2016