Press release
Government boosts preparations to tackle severe weather and avoid winter travel misery
£16 million investment in third rail heating to better prepare the rail network for severe winter weather.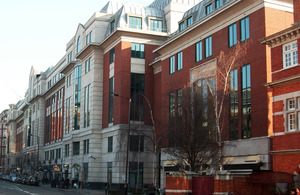 Transport Secretary Justine Greening announced today (6 December 2011) a £16 million investment in third rail heating as part of a £38 million programme to make sure the rail network is better prepared for severe bad weather this winter.
One of the lessons learnt after 3 successive severe winters was the need to increase the resilience of the railway to heavy snow, particularly on routes relying on the third rail.
The government is funding an extensive rolling programme to install third rail heating being carried out by Network Rail across London and the south east.
The programme, part of the infrastructure improvements plan announced in the Chancellor's autumn statement, will cover 116,000 metres of track and cover 421 sites where trains require most traction across the Kent, Sussex and Wessex routes.
To ensure that we go into this winter better prepared, equipment has already been installed at about 85% of the locations and is due to be in place at the remaining sites by January 2012.
The Transport Secretary also published today a cross-government research study examining options for strengthening winter resilience against a backdrop of recent winter travel disruption that has cost businesses and individuals around £280 million a day. The review, which involved Chief Economists and Chief Scientists at DfT, DECC and DEFRA, examined the case for greater investment in a variety of different measures to enhance future winter resilience.
The report shows that we have got the balance of investment in winter preparedness broadly correct.
But it found scope to do more in a number of areas, including boosting rail network resilience and showing there was a good case to introduce third rail heating south of London, where weather disruption was greatest last year due to dependence on third rail train power.
Justine Greening also announced that she had asked the UK Roads Board to explore further measures to make better use of salt, equipment and infrastructure to keep local highways open and safe during severe winter weather. She will also look at the case for increased investment in the Met Office's super-computing capacity that could ultimately provide improved information on the likelihood and impact of severe weather and support better long-term planning.
Justine Greening visited a rail depot in Tonbridge today to see some of the winter preparations that the rail industry is putting in place and met managers from Southeastern and Network Rail. Apart from the third rail improvements, Network Rail is expanding its fleet of snow clearance and ice treatment trains to a total of 20 and the rail sector is improving its communications with passengers.
Justine Greening said:
Severe cold weather will always cause some disruption but the government has worked with our industry partners to minimise the impact on passengers and businesses in future. Both airports and the railway are much better prepared than in the past and our current salt stock in Britain is over 2.7 million tonnes. Today (6 December 2011) I am announcing £16 million of investment in our rail infrastructure to help keep trains moving in snow and ice.

But I'm also asking the industry to raise its game and communicate better with passengers in severe weather. However much resilience train operators have built in, when problems do occur it's a lack of information that makes delays so frustrating and makes it more difficult for passengers to plan their journeys.
The Secretary of State for Transport has in recent weeks seen for herself some of the improvements to winter resilience this year, at Heathrow Airport and Felixstowe Port, for example. Yesterday the Regional Cabinet in Ipswich also discussed plans for winter preparedness this year.
Notes to editors
The report Winter Resilience in Transport: an assessment of the case for additional investment was published today (6 December 2011).
The Transport Secretary has asked the UK Roads Board to consider further road salt and local highways issues in the report, including gritter calibration and operator training, the potential for local authorities to share storage facilities and the cost effectiveness of setting up an advisory service to help local authorities identify whether they could achieve cost savings by investing in equipment needed for pre-wet treatments.
Heathrow and Gatwick airports have made significant investments in more snow and ice clearance capacity and improved their operational procedures. Heathrow has already committed to investing over £30 million to improve resilience and Gatwick has invested £8 million in its snow and ice clearance fleets following last winter. Both airports have significantly increased their stocks of de-icer.
Across government, action is being taken to plan for winter disruption. The Met Office has recently improved its national severe weather service, allowing more targeted forecast of potential impacts from severe weather this winter and providing a range of forecasts out to 30 days publicly available on its website. The Department of Health has a cold weather plan, as part of efforts to prevent illness and injury in cold weather. The Department for Communities and Local Government is liaising with local authorities to ensure access to road salt for all strategic consumers including police, ports, hospitals and services for the vulnerable.
Current salt stock for Great Britain at the end of October 2011 is 2,755,000 tonnes, including strategic stockpiles of 539,000 tonnes and Highways Agency operational salt stock.
The government has also joined up with voluntary sector partners and industry bodies to encourage individual, families and communities to think about what winter preparations they need to make. The Getting Ready for Winter initiative highlights some simple and straight forward advice. Including top tips on keeping warm, healthy and safe this winter. The get ready for winter web page is available on Directgov.
The Department for Transport is exploring with Transport Scotland, the Freight Transport Association and the Road Haulage Association how to broker agreement across a group of businesses and local authorities in England and Scotland to trial the temporary use of snow ploughs attached to certain types of heavy duty vehicles to help clear important routes between key distribution centres and the strategic road network. Where necessary, ministers will consider relaxing certain weights and dimensions legislation to facilitate this.
Related documents
Press enquiries: 020 7944 3108
Out of hours: 020 7944 4292
Public enquiries: 0300 330 3000
Published 6 December 2011