Government boosts hill farm and upland communities support
Funding of up to £26million to support hill farmers and help some of England's rural communities to thrive was unveiled today by Environment Secretary Caroline Spelman.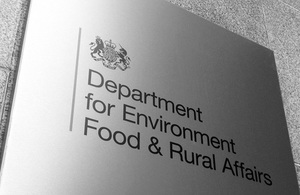 A new Rural Community Broadband Fund expected to be worth up to £20million will be set up to help end the digital and social divide suffered by rural areas and up to £6million a year more will be available to hill farmers for environmental stewardship schemes. 
Caroline Spelman said: 
"England's uplands communities face difficult challenges, as do other remote parts of rural England, yet these are places with a remarkable range of human and natural assets and they can have a bright future. I am determined that these areas will not be overlooked and that is why I will champion their interests right from the centre of Government. 
"Making a living as a hill farmer can be very difficult without the payments which reward the valuable environmental contribution they make, and unless farmers get help to innovate and diversify.  The range of measures announced today will help hill farmers become more competitive and take advantage of new opportunities to grow their businesses. They will also help rural communities to thrive." 
The broadband scheme will be jointly funded by the Rural Development Programme for England and Broadband Delivery UK, which is the team leading the Government's drive UK to have the best superfast broadband network in Europe by 2015.
Secretary of State for Culture, Olympics, Media and Sport, Jeremy Hunt said: 
"This new fund will enable some of the most remote communities in England to bring broadband to their homes and businesses. 
"Remote and rural areas have the most to gain from access to broadband but these are the communities currently missing out. 
"The whole of the UK should be able to share in the benefits of broadband and we are determined to make this happen by the end of the Parliament." 
The package of measures announced today follows a wide-ranging government review of policies affecting England's uplands. 
Key measures include: 
A guarantee that 100% of hill farmers eligible to enter Uplands Entry Level Stewardship (UELS) - the key environmental management scheme for hill farmers - will be able to do so, which would be worth up to an extra £6m a year from within the Rural Development Programme for England (RDPE). 
Creation of an "Uplands Theme" in the new delivery arrangements for the socio-economic elements of RDPE to target support to hill farmers, details of which will be announced later in the year: areas being considered include grants for small scale capital investments, help with business and other skills, apprenticeships, knowledge transfer and demonstration farms.
A commitment to reduce** the burden of unnecessary red tape on **hill farmers in the light of the forthcoming report of the Task Force on Farming Regulation:  issues of particular relevance which the Task Force is examining include livestock movement, regulation of small abattoirs and farm inspections. 
A new Rural Community Broadband Fund, expected to be worth up to £20million, to allow rural communities - including those in the uplands - to apply for help with small scale broadband projects: an innovative way of enabling people in rural areas, including hill farmers, to access the digital services and business opportunities most of us take for granted.
A process of consultation on whether the legislation for National Parks needs to better reflect their role in facilitating sustainable development, but without compromising the integrity of our National Parks.
Further announcements on these measures will be made in the coming months.
Notes
The Uplands Policy Review is online at: http://www.defra.gov.uk/food-farm/land-manage/uplands/
The Uplands Policy Review also sets out how the Government will meet the commitment in Defra's Structural Reform Plan to "develop affordable measures of support for hill farmers". 
The Rural Community Broadband Fund is expected to draw on RDPE European funds and funding from the £530m BDUK funding announced last year following the Spending Review.  It will provide support to rural communities across England, including in upland areas, for small community broadband projects.  Details of how the Fund will operate and how to apply will be announced later in the year.    
BDUK is a dedicated team within BIS, tasked with progressing the UK Government's policies and objectives for improving broadband coverage and delivery within the UK.  BDUK currently has four primary goals:
Effectively use the funds provided to meet the Universal Service Commitment
Increase the penetration of high speed connectivity and plan for the use of public money (from whatever source) if necessary
Explore the potential for reuse of public networks and assets to reduce the cost of making high speed connectivity available to poorly served areas in the UK
Work with and influence the other areas of the public sector (e.g. Ofcom) involved with and responsible for the delivery of the Coalition Government's policy objective to ensure the rapid rollout of high speed connectivity services across the country.
The Rural Development Programme for England (RDPE) 2007-13 is jointly funded by Defra and EU funding worth about £3.7 billion.  It covers three Axes, or objectives:  Axis 1 is concerned with farming competitiveness, Axis 2 with protecting the environment and the countryside and Axis 3 with diversification of the rural economy.  Axis 4, the Leader approach is a community led approach to the programme's objectives managed by Local Action Groups.
Uplands Entry Level Stewardship (Uplands ELS) is a strand of Environmental Stewardship designed specifically for upland farmers, and funded under Axis 2 of RDPE.  Uplands ELS was launched in 2010 and is available to all farmers in England's Severely Disadvantaged Area.  Current uptake targets are based on the scheme covering 80% of eligible land by 2015.  Today's announcement confirms that funding will be made available from within RDPE budgets to allow all eligible farmers to enter the scheme. 
Axis 1, 3 and 4 of the Programme, the socio-economic elements, are currently delivered by the Regional Development Agencies. RDPE delivery will be transferring from Regional Development Agencies to Defra in July 2011 providing greater national consistency whilst retaining a network of delivery support. 
The Uplands Theme will be part of the new approach to delivery of the RDPE socio-economic elements for the remainder of the programme period to 2013.  Elements including targeted skills programmes, capital investments schemes and enhanced weighting for upland areas within other generic schemes under the Programme are being developed over the coming months.  Further details will be announced later in the year.
Published 10 March 2011