Government boost to world leading UK life science industry
A multi million pound package of support outlined by the Prime Minister today to support the UK's life sciences industry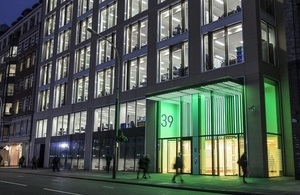 Three million at-risk patients to receive hi-tech equipment in the home.
New £180 million 'valley of death' catalyst fund for new medical breakthroughs.
Cutting NHS red tape to give** patients faster access to drugs.**
A multi million pound package of support - including a new £180 million fund to support the next brilliant medical breakthroughs - and the roll out of state of the art life saving equipment to three million homes are part of a series of measures outlined by the Prime Minister today to support the UK's life sciences industry. 
The UK life science industry is one of the world leaders; it is the third largest contributor to economic growth in the UK with more than 4,000 companies, employing around 160,000 people and with a total annual turnover of over £50 billion. Its success is key to future economic growth and our goal to rebalance the economy towards making new products and selling them to the world. Globally the industry is changing with more focus on collaboration, out-sourcing of research and earlier clinical trials with patients.
Today the government launched its Life Sciences Strategy and a review of innovation in the NHS from NHS Chief Executive Sir David Nicholson to meet this challenge and attract further investment to the UK. The measures bring our science base and the NHS together to ensure the UK is the best place in the world for companies to invest in the discovery, development and commercialisation of medical innovations.
Key measures include:
Deploying remote medical devices - such as home-based equipment that can send details of the vital statistics of at-risk patients directly to doctors - to 3 million people over the next five years. This will improve the lives of millions of people across the UK, saving lives and putting the UK at the forefront of global healthcare;
Consulting on proposals on a new 'early access scheme' which will put new drugs and technologies in NHS hospitals more quickly than ever before, particularly in areas where new treatments are urgently needed, such as brain and lung cancer; and,
Introducing a new £180 million catalyst fund to help the next generation of brilliant British medical breakthroughs become the next generation of great British companies. This fund will target the funding gap that exists - the so called 'valley of death' - between the moment that a bright new idea is developed in the laboratory and the point when a new drug or technology can be invested in by the market. 
Prime Minister David Cameron said:
"We can be proud of our past - but we cannot be complacent about our future. The industry is changing; not just year by year, but month by month. We must ensure that the UK stays ahead, yes, we've got a leading science base, we've got four of the world's top ten universities, and, we have a National Health Service unlike any other. But these strengths alone are not enough to keep pace with what's happening - we've got to change radically - the way we innovate, the way we collaborate, the way we open up the NHS.
"The two reports we're publishing today are testament to our ambition: not just to hang on in there with a significant foot-hold in the global market, but to take an even bigger share of that market in the years to come. I want the great discoveries of the next decade happening in British labs, the new technologies born in British start-ups."
Health Secretary Andrew Lansley, said:
"This shows our ambition to create a world-class NHS that makes the latest and best treatments available to patients.
"Improving health outcomes for patients is vital and we are committed to giving NHS staff the tools so they can provide innovative, high quality care for their patients."
Minister for Universities and Science David Willetts said:
"Our life sciences industry is a vital driver of growth and employs tens of thousands of people. But it is rapidly changing. We need to keep ahead of the game and make the UK one of the best places for companies to invest in innovation.
"To do this we need to create the right environment for scientists and business to work together and translate research into new, cutting-edge technologies and medicines. This will this boost our economy, create new jobs, and lead to better treatments for patients."
The NHS Chief Executive, Sir David Nicholson, said:
"The NHS has a long and proud track record of innovation that has driven major improvements in patient care.  It is full of talented people with creative ideas but it often takes too long to implement these ideas in the NHS. The challenges the NHS faces to improve quality and productivity in the coming years means spreading best practice fast is not an optional extra, it is an operational necessity.
"The review gives us the tools to do that job by removing the barriers to spreading innovation and creating new local partnerships - Academic Health Science Networks - to support delivery. It sets out areas where there are particular opportunities for improvement, for example putting technology in peoples' homes to help them manage their own conditions. It represents a call to action for everyone in the NHS to make innovation a central priority.
Further measures recommended in the reports include:
In response to calls from research charities and clinicians for government to get patients more involved in supporting the research agenda, we are announcing a consultation to change the NHS Constitution so that patient data is automatically included in clinical research, but giving patients a clear opportunity to opt-out if they wish to do so;
We will launch a new app and web portal providing a database of where clinical trials are going on. Members of the public will be able to log in and ask to participate;
We will require that all NICE Technology Appraisal recommendations are incorporated automatically into relevant local NHS formularies in a planned way that supports safe and clinically appropriate practice;
£50 million investment in a cell therapy technology and innovation centre, based in London, to provide businesses with the opportunity to turn their innovations into commercial products that will deliver major health benefits which could transform the lives of people with serious or chronic illnesses, such as Parkinson's disease; and,
To better understand what drives a range of diseases with a view to exploring new treatment opportunities we will invest £10 million in a new collaboration between the Medical Research Council and AstraZeneca to fund academic research using AZ compounds across a broad range of human diseases.                                
 Notes to editors:
The life sciences industry is generally understood to comprise pharmaceutical, medical technology and medical biotechnology companies, and industrial biotechnology companies (industrial biotechnology is not covered by this Strategy).  The wider life sciences ecosystem encompasses the broad spectrum of life science partners, including, researchers, clinicians, investors and patients;

Despite enormous pressure on public spending, the £4.6bn per annum funding for science and research programmes has been protected in cash terms and ring fenced against future pressures during the four years of the spending review period. Almost £610 million of capital has been invested in science this year;
3. Within the life science strategy, industry will benefit from the following investment;
£360 million to support the discovery, development and commercialisation of research which includes:
£130m for stratified medicines and mechanisms of disease in people** **- this allow the best researchers to resolve some of the most difficult questions about the mechanisms of diseases and how we treat them.  It will also provide for collaborations in stratified medicine between academia, industry and clinicians.
£180m for an MRC/TSB Biomedical Catalyst Fund - this will nurture innovative technologies from the academic or commercial sector through to companies with products or technology platforms in order to attract private equity.
£50m** investment**, £10 million per year over the next five years, into a new cell therapy technology innovation centre to commercially exploit this technology.
In the Autumn Statement the following life sciences proposals from the Growth Review were announced, and included; 
A framework for a Higher-Level Apprenticeship is being development and a Foundation Degree in, to be launched by Cogent in 2012. The Society of Biology is running a pilot accreditation scheme for undergraduate degrees, with and biochemistry degrees the first two subjects to be accredited. The Society is currently exploring ways of expanding the scheme;
The Government will ensure that the Intellectual Property (IP) system supports life sciences businesses. A consultation on the risk of patent infringement during clinical or field trials was carried out over the summer to ensure the barriers to knowledge transfer from universities are minimised; and,
Significant reform of the Enterprise Investment Scheme and Venture Capital Trusts, subject to State Aid approval. EU Commission approval has been received to commence the Enterprise Investment Scheme rate change to 30 per cent from April 2011 and to enact the doubling of the investor limits from April 2012.
The Department of Health will accelerate the use of telehealth and telecare technologies - such as home-based equipment that can send details of the vital statistics of at-risk patients directly to clinicians - to improve the lives of 3 million people over the next five years, putting the UK at the forefront of global healthcare;
6. The Department of Health will simplify the process for researchers accessing vital data. The Department's Research Capability Programme, a programme started in 2008, looks at how data captured by the NHS in routine care could safely support research. At present getting patients consent for vital research is done on a study by study basis causing significant delays. The Government's announcement today will further improve the evidence used in research for the wider benefits of patients through the rate at which patients can be recruited for clinical trials. The Programme is now launching the Clinical Practice Research Datalink that builds a nationwide health data and information platform that will enable health research to achieve maximum potential and the ambition to make the UK the preferred place to carry out medical research. By changing the NHS Constitution to set the position for the whole population we can remove these vast delays.  
BIS's online newsroom contains the latest press notices, speeches, as well as video and images for download. It also features an up to date list of BIS press office contacts. See the BIS website for more information.
Published 5 December 2011