Press release
Government backs businesses with £5 million funding boost
The Department of Health has today announced £5 million of funding for businesses to come up with new products or services that will help improve the experience of people with mental health illnesses and people at the end of their life.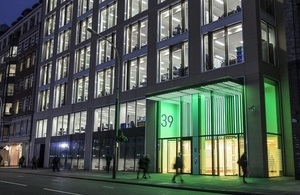 This funding is part of the Government's commitment to help improve care for patients with long-term conditions and ensure high quality care and support offered to dying people in their final days and hours. The two new competitions, with a total of up to £5 million of funding, are looking for ideas that can improve the experience for older people at the end of their life or improve the experience for people with mental health illnesses
Health Minister, Lord Howe said:
"We need to find new ways of treating and supporting people with mental illnesses and need to ensure those approaching the end of their life are treated with dignity and respect and receive the best care and support.
"Small businesses, play a crucial role in providing creative and innovative solutions to existing problems. That's why we are supporting them through our £5 million funding to tackle these challenges and make a difference to patient's lives.
Mental health illnesses are the single largest cause of disability in the UK. At least one in four people will experience a mental health problem at some point in their life. The Government's 'No health without mental health' outcomes strategy highlights the importance of tackling the inequalities that lead to poor mental health but also the unique and varied challenges associated with the illness. This competition calls for creative ideas and technologies that could mean mental illnesses are diagnosed earlier, and the disease better managed through a more tailored approach to care. The other competition focuses on how new technologies can help people have a better experience of end of life care. Ideas could include new technologies that provide greater comfort and help with managing pain.
Sir David Nicholson, Chief Executive of the NHS, said:
"The NHS can be proud of the innovation it has introduced into the care of patients across England but we need to get smarter at making it easy for others to adopt.  Technologies that can give people a better end of life or improve the management of mental illness could make a real difference to many.
Iain Gray, Chief Executive of the Technology Strategy Board said:
"These new competitions represent the next step in the continued engagement of the Department of Health and the NHS in SBRI showing the value that they can get from engaging with industry, taking the role of lead customer and securing new and novel solutions to intractable problems while at the same time encouraging British business. "
These competitions are part of the Small Business Research Initiative (SBRI), a cross-government initiative that aims to promote UK economic growth whilst addressing public sector needs. Previous SBRI competitions called for technological and innovative solutions to change people's behaviour in order to reduce the impact of obesity and alcohol related diseases and solutions to improve the number of patients taking their medication as prescribed. Contracts have now been awarded to the successful organisations and work is now underway to turn these innovative ideas into commercialisation stage and ultimately NHS adoption.
These competitions will be managed by NHS Midlands and East.
Notes to Editors:
For further information, please contact the Department of Health press office on 020 7210 5221.
One of the published measures in "The Plan for Growth" issued by HM Treasury and Department for Business, Innovation and Skills (BIS) in March 2011 was that DH is committing £10 million on SBRI competitions that address healthcare challenges.
In December 2011 it was published in "Innovation Health and Wealth" that DH will double its investment in SBRI, which equates to £20 million
**Innovation, Health and Wealth **
Innovation, Health and Wealth sets out a delivery agenda for spreading innovation at pace and scale throughout the NHS. It includes a number of actions that will deliver game changing improvements in the quality and value of care delivered in the NHS. They are designed as an integrated set of measures that together will support the NHS in achieving a systematic and profound change in the way the NHS operates. The IHW Implementation Board that reports to the NHS Chief Executive (chaired by Sir Ian Carruthers OBE, CE, NHS South of England) meets monthly.  On 10th December 2012 Creating change IHW One Year On was published.  Of the 31 recommendations in IHW,  25 have been delivered and the remainder are on track fro delivery.  Creating Change can be found on the Department of Health website.
The Technology Strategy Board is a business-led government body, which works to create economic growth by ensuring that the UK is a global leader in innovation. Sponsored by the Department for Business, Innovation and Skills (BIS), the Technology Strategy Board brings together business, research and the public sector, supporting and accelerating the development of innovative products and services to meet market needs, tackle major societal challenges and help build the future economy. For more information please visit their website.
SBRI (Small Business Research Initiative) is co-ordinated by the Technology Strategy Board and is designed to encourage government departments and other agencies to ensure that a proportion of their procurement budget goes to innovative companies, and that they are procuring innovative solutions to some of the challenges that they face.  The aim of SBRI is to use the power of government procurement to drive technology development, especially in early-stage companies, supporting projects through the stages of prototyping and demonstration, which are typically hard to fund.  SBRI offers an excellent opportunity for businesses to develop and demonstrate technology, supported by a customer, and to reach the first rung on the government procurement ladder. For more information please visit the Technology Strategy Board website.
NHS Midlands and East is the Strategic Health Authority cluster incorporating NHS East of England, NHS West Midlands and NHS East Midlands which provides strategic direction for healthcare services across this cluster.
Competition details
The application process is run through Health Enterprise East, the NHS Innovation Hub for the East of England. All applications should be made using the application forms, which can be downloaded** **from the Health Enterprise East website.
Please email your forms to submissions@hee.org.uk
by 1200hrs on 28 February 2013
Key dates
Competition launch 3rd January 2013
Deadline for applications 28 February 201
Published 3 January 2013