Press release
Government awards £500,000 to support probation mutuals
The first support contracts have been signed to help probation trusts spin out and bid for new contracts.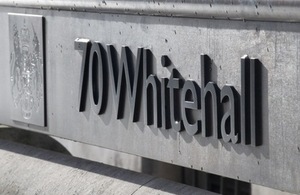 The Cabinet Office is supporting probation staff who are considering 'spinning out' of probation trusts into mutual organisations and has now signed the first contracts with suppliers providing over £500,000 of specialist support.
The first cohort includes 7 spin outs covering 12 probation trusts. This means that groups of staff from within more than a third of the UK's 35 probation trusts are actively preparing to bid for services in the national competition for rehabilitation services - which the Ministry of Justice plans to roll out by early 2015.
The government's transforming rehabilitation programme will improve the way that offenders are rehabilitated into the community. Mutuals have the opportunity to play an important role in the delivery of new rehabilitation contracts and the £500,000 from the mutuals support programme will help spin outs be fully prepared for the bidding process. Opening up the sector to new providers and combining the best from the private, public, and VCSE sectors will enable rehabilitation services to be delivered in more innovative and cost effective ways.
Over 70% of the £500,000 support spend has gone to SMEs which will make for a more competitive market and help drive economic growth. These organisations will provide new mutuals with bespoke one-on-one support and coaching on legal, financial, and commercial issues - including helping identify potential partners. The spin outs will also have access to Cabinet Office's network of commercial experts.
Minister for the Cabinet Office, Francis Maude said:
"Across the public sector thousands of front line employees are forming mutuals and taking control of the services they run. Already, 70 mutuals are delivering over a billion pounds worth of public services and many more are developing. They prove that giving front line staff the power to make decisions and a real sense of ownership can lead to huge improvements in efficiency and service quality. They are also driving growth in the economy, helping Britain to compete in the global race.
"It's very exciting that probation trusts recognise the potential of mutuals to play a major role in the future of their services. This government is on the side of entrepreneurial public servants who work hard and want to get on, that's why I'm backing potential probation mutuals with £500,000 for the legal and business support they'll need."
If probation services run by mutuals are successful in their bids, they will join a long list of public services which are being delivered by staff-led organisations. Mutuals are already providing services worth over £1 billion and are developing in a range of sectors, with York library looking to become the first library mutual in the UK and many other organisations from fire to adoption services exploring the benefits of mutualisation.
Notes to editors
The Mutuals Support Programme provides professional support to new and developing mutuals so they can overcome barriers to growth.
Breakdown of funds awarded:
|   | Staff groups seeking to spin out from | Winning bidder | Value of award (£) |
| --- | --- | --- | --- |
| North West | Cumbria PT, Lancashire PT and Merseyside PT – 'Innovo' | PA Consulting (with Winckworth Sherwood LLP) | 102,900 |
| South West | Dorset PT and Devon & Cornwall PT | RedQuadrant (with Bevan Brittan LLP) | 89,550 |
| East Midlands | Leicestershire & Rutland PT - 'REACH' | Mutual Ventures (with Bates Wells and Braithwaite LLP; Social Finance; Enlightened HR; and Buzzacott) | 59,950 |
| West Midlands | West Mercia PT & Warwickshire PT | Mouchel (with SCA Group) | 80,415 |
| South East | Kent PT and Sussex & Surrey PT | Anthony Collins Solicitors LLP (with Cooperative and Mutual Solutions; Ex-Cell Solutions; Mutuo; and FPM) | 84,275 |
| South East | Essex PT | Stepping Out (with Anthony Collins Solicitors LLP; Resonance Ltd; No Nonsense Communications; Blue Star Human Resources) | 79,950 |
| London/South East | London PT – 'RISE' | Social Pioneers (with Inspire2Enterprise; TDP Development; Wrigleys Solicitors) | 75,600 |
Published 3 July 2013