Government anticipates £5 billion in cash savings this year
Government is on track to make around £5 billion savings this year - even more than last year.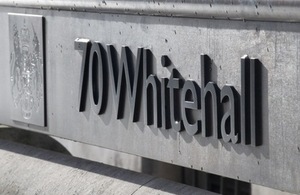 CAB 010-12 
An unwavering determination to keep eradicating waste in Whitehall has put the government firmly on track to make around £5 billion in cash savings this year - an even greater number than last year's significant savings - the Minister for the Cabinet Office, Francis Maude, announced today.
Last year's tough controls in property, procurement, ICT and staffing introduced by the Cabinet Office and HM Treasury delivered a staggering £3.75 billion in cash savings in just one year. These figures have since been corroborated by key independent auditors, including the National Audit Office (NAO). This was the first time the NAO has ever corroborated government savings figures in this way. 
As part of its continuing pledge to leave no stone unturned in the hunt for waste, this year the Government can already confirm that in just eight months it has secured £3.25 billion in cash savings from efficiency measures. This will help departments live within their tighter budgets set at the Spending Review.  On top of this, work carried out to uncover waste in areas such as fraud, error and debt mean that projected savings for the full financial year are anticipated to be around £5 billion.
Minister for the Cabinet Office Francis Maude said:
It was never our goal just to save money in year one and move on.  There can and will be no turning back in the ongoing hunt to root out waste in Whitehall and cut costs to protect frontline services.  Our new business-like approach and steely determination to get value for taxpayers' money means we now expect to make £5 billion in cash savings by the time this financial year is out.

But that is not all that has changed.  For the first time, like any large business, we now have an effective operations centre at the heart of government - one that will keep delivering savings for the taxpayer year after year. We always knew that change of this scale would not always be easy or popular, but it was necessary and I believe today's figures will show once and for all that the sceptics were wrong.
The savings announced today show there is no let up in efforts across Whitehall to change the way central government works and have been achieved through efficiency and reform measures across ICT, property and consultancy spend across government. These measures include:  
Property and estates
£130 million reduction in the ongoing cost of our Property estate by exerting better control over lease renewals.
The government's property estate has been reduced by a further 416,597sqm - equivalent to 58 Wembley Stadium pitches.
Reducing spend on consultants and temporary labour
£1.1 billion saved by cutting departmental spend on consulting and temporary agency staff - equivalent to 50,000 junior nurses, 35,000 secondary school teachers.
21st Century ICT
£140 million saved by demanding - for the first time - a rigorous business case for any significant ICT spend and only allowing it where it is absolutely necessary to bring government in line with standard business practices.
Smarter procurement
£295 million saved by centralising spend on common goods and services.
£100 million saved on travel costs within the Civil Service through driving better deals, using cheaper modes of travel, and reducing the number of journeys made.
A smaller civil service
An equivalent of £800 million saved on salary costs by reducing the size of the Civil Service by putting stronger controls on non-essential recruitment.
Since June 2010, the size of the Civil Service has reduced by 43,000 - a 9% reduction in headcount - and is now at its lowest level since the Second World War.
The savings made today are just part of the broader reform agenda, which includes:
ending the days of large, costly projects that don't deliver - the Major Projects Authority assures effective delivery, and the Major Projects Academy will improve  leadership skills in the civil service;
fast-tracking the digital revolution by establishing a Government Digital Service to move more services online - the beta of a single domain was released earlier this month;
overhauling the management of departments and bringing in the best from the private sector to act as Non-Executive Directors on department boards;
increasing levels of public accountability in public sector bodies by making public more data than any previous government;
an overhaul of the public bodies landscape to shut down unnecessary quangos and move unaccountable arms-length bodies back under the control of elected ministers;
reforms to the Civil Service itself to make it a leaner, more entrepreneurial and innovative organisation by improving performance management, terms and conditions, upgrading project and programme management skills; and
creating new delivery models, such as our work to establish mutuals and joint-venture businesses, and to open existing public services up to greater competition from the private and voluntary sectors.
Notes to Editors
The Efficiency and Reform Group (ERG), based in the Cabinet Office, was set up to ensure that departments across Whitehall adopted a new and ambitious approach to saving money and started working together to ensure the greatest economy of scale when buying goods and services.  It also brings the best in private sector operations practice to government for the first time. The Group oversees information and communications technology spend, procurement, marketing and consultancy spend, and Civil Service expenses and recruitment.  Much of its work has never been tried by Government before, such as renegotiating contracts with major suppliers across government to reduce costs, and a freeze on all new advertising and marketing spend. 
The work of ERG is overseen by an Efficiency Board, chaired jointly by the Chief Secretary to the Treasury, Danny Alexander, and the Minister for the Cabinet Office and Paymaster General, Francis Maude.
ERG ensures departments work together to tackle waste and improve accountability across a range of areas, including information and communications technology (ICT), procurement, projects, HR and property. 
Find further details on the Government's Efficiency and Reform programme here.
Published 16 February 2012