Government announces organisations selected to deliver National Citizen Service contracts
A group of organisations have been selected to deliver contracts worth £200 million to run National Citizen Service.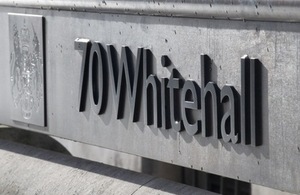 13 September 2012
CAB 097-12
A group of organisations including charities and colleges have been selected to deliver contracts worth £200 million to run National Citizen Service, the government announced today.
Building on the success of the last two years of pilot programmes, NCS is being expanded to meet the growing demand from young people and their parents. The successful organisations are those that have demonstrated the capacity and expertise to deliver high-quality NCS programmes over the next two years.
National Citizen Service offers 16-and 17-year-olds from different backgrounds valuable life experience by putting them into teams away from home and setting them the task of finding solutions to local problems or issues that matter to them. Independent evaluation of the programme by NatCen has shown that 92% of young people taking part would recommend it to friends, and that it benefits young people's teamwork, communication and leadership skills.
In future, NCS will be structured differently, with a lead organisation responsible for the programme in each of 19 regions across England. Each regional lead will bring together a wide range of partner organisations to run the individual National Citizen Service programmes in that area.
The selected lead organisations are:
Football League Trust
Inspira (formerly Connexions Cumbria)
Lincolnshire & Rutland Education Business Partnership
New College Nottingham (College)
Petroc (College)
The Challenge Network
The NCS Network
Reed in Partnership
Minister for Civil Society Nick Hurd said:
Our ambition is to make National Citizen Service universal so that all 16- and 17-year-olds can take part. Following the success of this summer's programme and the growing demand from young people and their parents, we are expanding the number of NCS places next year.

In order to deliver more places and maintain the standard of youth mentoring, we are awarding contracts to organisations who have demonstrated that they have the capacity and expertise to deliver high-quality NCS programmes that appeal to young people, benefit communities and offer value for money to the tax payer.
Sir Stuart Etherington, CEO of NCVO, said:
We are pleased to see our draft guidance being used as the basis for this tender. It's vitally important that we get the relationship right between the voluntary sector and the private sector. Partnership working between the sectors is already commonplace, and our goal is to ensure that the experiences of our members and the views of the wider sector shape these processes so that we can facilitate appropriate collaboration and deliver better outcomes for public services.
The government received 57 bids for the 19 regional contracts. Eight bidders were successful, including four charities, two college consortia and two Voluntary, Community, Social Enterprise (VCSE) and private sector partnerships. As a result, over 120 organisations will be involved in the national and local delivery of NCS over the next two years, including over 70 organisations from the VCSE sector, and around 50 colleges and local authorities. Of the £200 million, organisations will spend £190 million on programme delivery, with the vast majority of the money going to the 120 VCSE organisations, education establishments and local authorities providing NCS experiences for young people. The remaining £10 million will be used by lead organisations to cover administration costs.
Notes to editors
NCS is moving from annual grant-funded pilots to 19 regional multi-year contracts to ensure value for taxpayer money and to give VCSE organisations more certainty about future funding.
Successful bidders will be given two-year contracts, with the option to extend for a further year to cover delivery in 2015.
Local and national VCSE organisations will play a key role in the delivery of NCS:
In total, 73 charities and voluntary and community sector organisations will be delivering NCS locally, along with 18 local authorities, 29 education providers and five education and business partnerships
Almost 90% of delivery partners are locally based, with many more organisations involved as community partners who will receive the benefit of young people's social action in the coming years.
23% of organisations involved in delivery have an annual turnover of less than £1 million.
The contracts have been designed carefully so that all organisations will have funding to enable delivery, with 75% of the payment being made in advance of delivery.
There will be limited financial risk to allow VCSE organisations to build their capacity and capability, while ensuring quality and value for money. Of total payments, 25% will be based on performance, including participant feedback and the rest paid in advance of delivery.
The management fee for all lead organisations, including those from the private sector, is capped at 5%.
The two consortia with private sector lead bodies are piloting guidelines for effective working with the VCSE developed by the National Council for Voluntary Organisations.
| Organisation  | Region (s)  |
| --- | --- |
| Football League Trust  | Yorkshire & Humber 1 (1 region)  |
| Inspira  | North West 3 (1 region)  |
| Lincolnshire & Rutland Education Business Partnership   | East Midlands 1 (1 region)  |
| New College Nottingham   | East Midlands 2 (1 region)   |
| Petroc  | South West 1; South West 2 (2 regions)  |
| Reed  | East 1; East 2 (2 regions)  |
| The Challenge Network   | London North, London South, West Midlands 2; North West 2; South East 3 (5 regions)  |
| The NCS Network (Vinspired, NYA, UK Youth, Catch 22, Serco)  | North East; North West 1; Yorkshire & Humber 2; West Midlands 1; South East 1; South East 2 (6 regions)  |
Published 13 September 2012