Government announces new members to the Social Security Advisory Committee
Six appointments to the Social Security Advisory Committee (SSAC).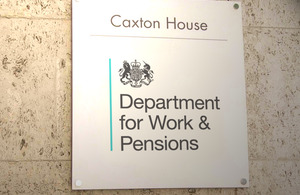 The Minister for Welfare Reform, Lord Freud, announced today six appointments to the Social Security Advisory Committee (SSAC):
John Andrews
Adele Baumgardt
John Ditch
Chris Goulden
Nicola Smith
Diana Whitworth
Lord Freud said:
I am delighted to welcome these members to the Social Security Advisory Committee. They will bring a wealth of skills and experience to the Committee at a time of fundamental reform of the welfare system.
Paul Gray, chairman of SSAC said:
These appointments have been made at a particularly interesting time in terms of the welfare reform agenda, and the skills and experience that these members bring to the Committee ensure that we will continue to be able to provide authoritative and pertinent advice.
Notes to Editors:
The Social Security Advisory committee (SSAC) is an independent statutory body formed in 1980. It provides advice to the Secretary of State on proposals for the amendment of secondary legislation and on general social security matters as required.
The Commissioner for Public Appointments regulates all appointments made by the Secretary of State to the SSAC. All such appointments are made in accordance with Code of Practice published by the Commissioner. The Code is based on three core principles - merit, openness and fairness.
SSAC Members receive a daily fee of £256.80, for a time commitment of at least two days per month. The appointments are for a period of three years.

John Andrews OBE

John was formerly Head of Tax at Coopers & Lybrand (now PwC) and President of the Chartered Institute of Taxation. Since 1998 he has been a full-time volunteer in the charity sector with a particular focus on helping those on low incomes cope with the complexity of the law. John previously served as a co-opted member for SSAC for three years until March 2012.

Adele Baumgardt

Adele is a Diversity and Equality Consultant whose work is focused around giving advice to public authorities on compliance with legislation, policy and operational proposals. She has held a number of public appointments such as Board Member of Sport Wales, Chair of the Public Transport Committee for Wales and former Wales Commissioner for the Women's National Commission. She is also a member of the Welsh Government Third Sector Partnership Council working group on Welfare Reform.

Professor John Ditch

John is a former Professor of Social Policy at the University of York; he was subsequently a Pro Vice-Chancellor at Northumbria University. He acts as a Senior Expert to the EU's Mutual Information System on Social Protection and has extensive experience of board membership and committee work through his former appointments as Vice-Chair and Chair of two NHS Boards and as an Independent Member of the Agricultural Wages Board for England and Wales. He is an Independent Consultant and Honorary Professor of Social Policy at the University of York. He is also a Fellow of the Royal Society of Arts and of the Royal Statistical Society.

Chris Goulden

Chris has been a member of the UK Commission for Employment and Skills Policy Expert Group and has served on the board of the Social Research Association. He is head of the Poverty Team in the Policy and Research Department at the Joseph Rowntree Foundation (JRF) and responsible for programmes on welfare, employment and poverty.

Nicola Smith

Nicola's background is in policy and research and she is currently the Head of Economic and Social Affairs at the Trades Union Congress, leading the TUC's work across a range of economic, labour market and social welfare policy issues. Nicola was originally appointed to the Committee on 1 January 2010 and her current contract expires in 31 December 2012.

Diana Whitworth

Diana's executive career has been in the not-for-profit sector including roles as a Chief Executive of two charities. She also has experience of non-executive board and committee work in the charities, NHS and central government sectors.
Media Enquiries: 0203 267 5109
Out of hours: 07659 108883
Website: www.dwp.gov.uk
Published 24 October 2012